Western Placemats
Below are placemats with Western designs for sale. A placemat (sometimes spelled as two words: "place mat") is a small mat beneath an individual place setting (plate, napkin, utensils, drink ware, etc.) at a dining table. Their purpose is to protect the table (and tablecloth, if one is being used) from food and liquid stains, as well as general wear and tear. While they definitely serve a practical purpose, their other main function is to serve as decoration: The right placemats can add a finished look to any table setting. Below are Western placemats for sale from Zazzle, Amazon, and eBay.
You might also like: Cowboy Placemats or Western Table Runners.
Below: A leather-look Western placemat from Zazzle.
10, Western Fashion, Tooled, Oval Turquoise Concho Placemat
by
ArtaThon
---
From Zazzle
Construction materials on Western placemats on Zazzle DO vary: Some are cloth, others are laminate, and some are made from paper for throw-away or recycling ease. (Note: While some of the details such as leather, conchos, etc., on placemats from Zazzle can look very real, especially in the photos, they don't actually contain any of these materials.) When on the Zazzle website look below the main image preview for the "About This Product" area to read about the size, construction, and care of any particular placemat you're interested in.
Also, when on the Zazzle website look underneath the "About This Product" area for customer reviews.
---
Western Leather Look, Algerian Red Placemat
by
Time2Shop
---
Tribal, Western, Native, Pattern Print 14 Placemat
by
FashionLeader
---
Western Leather and Tribal Pattern Print Cloth Placemat
by
WesternStore
---
Leather Print, Teal w/Studs Western Print Placemat
by
aahART
---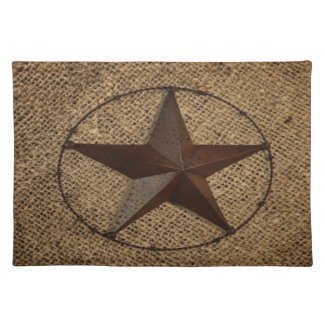 Western Country Rustic Burlap Primitive Texas Star Placemat
by
CHICELEGANT
---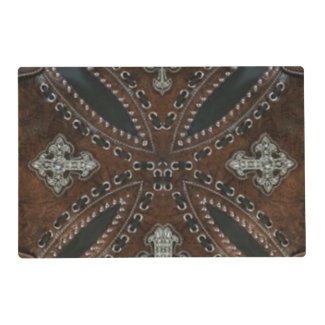 Primitive cowboy western country Tooled Leather Placemat
by
CHICELEGANT
---
Stormy Dark Blue Crocodile Leather Look Print Placemat
by
ArtnDesigns
---
Tribal, Native American, Nature/Blue, Geometric Placemat
by
DesignGallery
---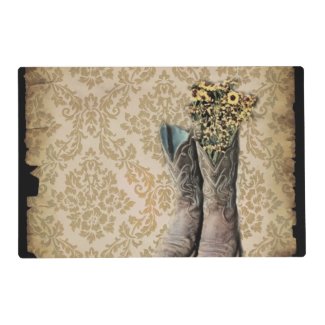 Damask wildflower Western country cowboy boots Placemat
by
youniquetrend
See more Western placemats on Zazzle
---
From Amazon
See more Western placemats on Amazon
---
From eBay
eBay usually has an excellent selection of Western placemats for sale.
---
So, What Is A Placemat?
To understand what a placemat is, it's first useful to know what a "place setting" is. A place setting is made up of the plate(s), utensils, drink ware, and napkin used by an individual person at a meal. Place settings can be informal or formal.
A placemat, then, is a mat placed beneath an individual place setting. Placemats can be used alone (that is, placed directly on the table) or in addition to a tablecloth. Either way, they serve the purpose of protecting the table and/or tablecloth from dining hazards such as spills, stains, and regular wear and tear. Additionally, placemats are decorative and can add a beautiful accent to any dining table, whether it be for a casual meal or a more formal one.
Below: A beautiful placemat underneath a place setting on a wooden table.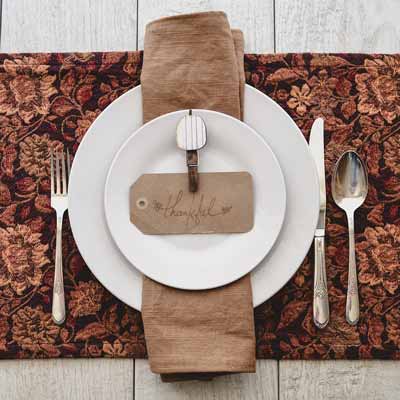 Above: CC0 image courtesy of Pixabay.com.
Placemats can be, and are, made from a wide variety of materials. While many of them are easy to care for (they are, after all, the first one to "take a hit" if a dining accident should happen), some of them are made from materials that can't simply be wiped with a damp cloth or thrown into the washer. When shopping for placemats, be sure to read the care instructions on any placemats you might be interested in as care instructions do vary.
---
What Is Zazzle?
Zazzle is a company that offers a way for artists, photographers, and designers to showcase their unique and beautiful creations on a wide variety of items.
Zazzle itself takes care of receiving and processing all orders, and customer support.
Zazzle is known for their lightning-fast order processing and shipment.
Many of the items on Zazzle can be personalized by the customer! Just look for personalization / customization options when you place your order.
Zazzle has a friendly return policy, even for customized orders. You can see their return policy here. Want to know what others think? You can see Zazzle testimonials here.
---
---
---
---
From Zazzle: You Might Also Like...
Auto / Truck
Banners
Business Cards
Clothing / Apparel
Dry Erase Boards
Home
Miscellaneous
Office
Wedding
Link To This Page
If you found this page useful or interesting and would like to link to it from your own website or blog, you can use the small code snippet below to make a link. Thanks!
Use ctrl+C in Windows or command+C on a Mac to copy the link.
<a href=""></a>
---
Below: Like and share this page on Facebook!