Antler Chandeliers
Antler chandeliers are commonly made from whitetail deer, mule deer, and/or elk. They can also be faux, which means they're reproductions.
---
---
The antler chandeliers for sale below are mostly faux, but you can occasionally find a few real antler chandeliers. If the description says "cast" chandeliers, that's another way of saying they are reproductions, or faux. Please scroll down for good information to know before buying antler chandeliers. You might also like: Antler Lamps.
Below: An deer antler chandelier hanging from a wood beam ceiling.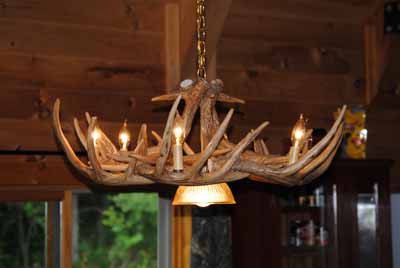 MorgueFile.com image
---
From eBay and Amazon
See more antler chandeliers on eBay
---
Antler Chandeliers: Good Things To Know Before You Buy
When buying antler chandeliers off of eBay or anywhere, there are some things to make sure you know before you make your purchase.
Is the antler chandelier made from real antlers, or are they faux (reproductions, i.e. cast)?

Do you care? Many faux antler chandeliers look real and can cost a lot less.

Is it new or used?
Are there enough clear photos of the chandelier that you feel you know exactly what you're getting?
What is the weight and dimensions of the chandelier?
How many lights are there?
Does it come with a chain, cord, etc. to hang it with?
Will there be sales tax?
Will the seller ship to your location? Most antler chandeliers we've seen on eBay are shipped to anywhere in the USA and worldwide, but it's always smart to check.
What the shipping charges will be?
Is insurance for shipping the antler chandelier optional or automatically included?
Is there a reserve? If so, you can email the seller and ask them to reveal the amount of the reserve price. Many sellers will cheerfully disclose their reserve price when asked, but not always.
Every eBay item for sale has a "Seller info" area. Be sure to check this area to view the feedback rating that previous buyers have left for that particular seller. There is also an area where a potential buyer can read comments left by previous buyers.
If you have any questions be sure to ask the seller before you bid on an antler chandelier. Look for the "Ask a question" link in the "Questions and answers about this item" area to ask your questions.
---
Antlers Compared To Horns: Fun Facts To Know
Antlers are found on animals in the family Cervidae.
Horns are found on animals in the family Bovidae (with the exception of the Pronghorn Antelope which is from the family Antilocapridae).
Antlers are made of one component, bone.
Horns are made of two components: 1) a bone core, and 2) a sheath of keratin.
Antlers are not a permanent part of the animals' skull. Antlers are grown, shed, and re-grown annually.
Horns are a permanent part of the animals' skull and therefore are never shed.
Below: Deer antlers on a cattle ranch in Colorado. These antlers are called "sheds" because they were shed from the deer during the annual shed-and-regrow cycle.
In most species antlers are found only on males, but in caribou/reindeer are found on males and females.
In many species horns are found on both males and females, but in some species are found only on males.
Antlers typically branch out.
Horns do not branch out. In other words, the tip of a horn ends in only one point on each side of the head.
The bone of an antler is alive only during the growth stage of the antler. Once the antler is mature the bone dies.
The bone of a horn is alive throughout the lifetime of the animal.
Below: A very large antler chandelier at the National Cowboy and Western Heritage Museum, Oklahoma City, Oklahoma.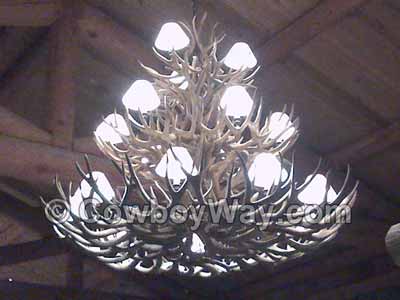 ---
---
---
You Might Also Like...
Art
Bathroom
Car Mats
Ceiling Fans
Chairs
Chandeliers
Cowboy Night Light

Lighted steer head

Cowhide
Cow Skulls
Dry Erase Boards
Glass
Napkins
Office
Party Supplies
Rugs
Shower Curtains
Table
Tapestries
Wagon Wheels
Wall Decals
Wallpaper
Wedding