Farrier Business Cards
Below are farrier business cards featuring graphics and designs for farriers and horseshoers. They are offered for sale from Zazzle, Amazon, and eBay. While they can all be personalized with your own text and information, in our opinion the personalization is quickest and easiest at Zazzle. Though the words "farrier," "blacksmith," and "horseshoer" are sometimes used interchangeably, there is a difference. For more information, please scroll down beneath the business cards for sale.
Below: An easily personalized farrier business card. From Zazzle.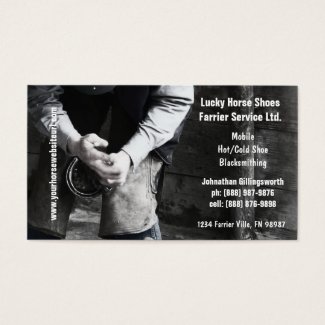 Farrier - Horseshoe Service Business Card
by
CountryCorner
---
From Zazzle
On Zazzle, the business cards are quickly and easily personalized and you can preview exactly how the finished cards will look BEFORE you place your order.
See more farrier business cards on Zazzle
---
From Amazon
See more farrier business cards on Amazon
---
From eBay
The farrier-specific business cards we've seen on eBay are usually from international sellers (often, the United Kingdom). However, many international sellers will ship to the USA, and they might have the business cards you're looking for.
See farrier business cards on eBay
---
Below: A 1908, World War I British photograph of an army mule in stocks waiting for the farrier.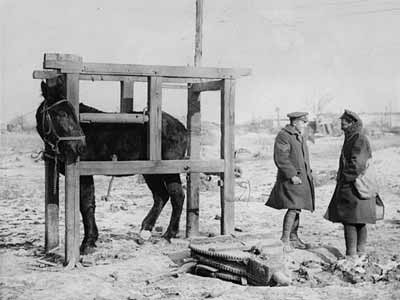 Image: No known copyright restrictions.
---
Farriers, Blacksmiths, and Horseshoers, Oh My!
A farrier is a person who specializes in the care of a horse's hooves. While farriers are knowledgeable in many aspects of hoof care, they are perhaps best known for their skills in trimming horses hooves and shoeing horses.
A blacksmith is a person who makes or repairs things made of iron or steel. A farrier is a type of blacksmith with a specialty in the care and/or shoeing of a horse's hooves. (Note: While farriers typically work with metal to shoe horses, they might work with other materials also.) Blacksmiths (including farriers) can "cold" shape metal (including horseshoes), meaning they create, repair, or shape metal without the use of heat, or they can use a heat source, such as a forge, to make the metal temporarily more pliable while they work with it.
Defining the word "horseshoer" can be a bit tricky. To many people a horseshoer and farrier are the same thing. For other folks, though, the words are somewhat different: They use the word "horseshoer" for anyone who shoes horses, and use the word "farrier" for those who have had a formal education in the craft, such as at a trade school.
---
What Is Zazzle?
Zazzle is a company that offers a way for artists, photographers, and designers to showcase their unique and beautiful creations on a wide variety of items.
Zazzle itself takes care of receiving and processing all orders, and customer support.
Zazzle is known for their lightning-fast order processing and shipment.
Many of the items on Zazzle can be personalized by the customer! Just look for personalization / customization options when you place your order.
Zazzle has a friendly return policy, even for customized orders. You can see their return policy here. Want to know what others think? You can see Zazzle testimonials here.
---
From Zazzle: You Might Also Like...
Auto / Truck
Banners
Business Cards
Clothing / Apparel
Dry Erase Boards
Home
Miscellaneous
Office
Wedding
Link To This Page
If you found this page useful or interesting and would like to link to it from your own website or blog, you can use the small code snippet below to make a link. Thanks!
Use ctrl+C in Windows or command+C on a Mac to copy the link.
<a href=""></a>
---
Below: Like and share this page on Facebook!