Cowboy Metal Wall Art
Below is cowboy, Western, and rustic metal wall art for sale on Amazon and eBay.
---
---
Please scroll down for good things to know before buying metal wall art on the Web or anywhere else.
Below: Metal wall art of two Longhorn cows. They are the same size, same metal, etc. but when light hits them differently they can look very different.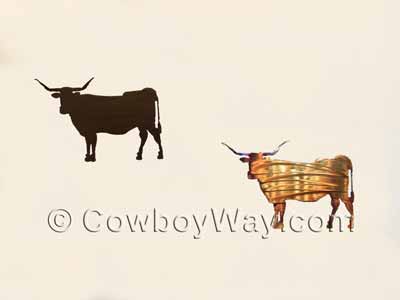 ---
From eBay and Amazon
See more cowboy metal wall art on eBay
See more cowboy metal wall art on Amazon
---
Metal Wall Art - Good Things To Know Before You Buy
How big is the wall art? Be sure to read the seller's description of the size (height, width, and depth) carefully. It can be difficult to get an item in the photos with the wall art that can give you a proper perspective for size, so if you are only looking at the photos they can be misleading as to how big the art actually is.
What kind of metal is it made of? Does it have a finish that will help prevent color or rust from rubbing off onto your wall?
How does the wall art mount to the wall, and is mounting hardware included? Hint: Often the mounting hardware is not included. This usually isn't a problem as most pieces of wall art mount with common hardware that is easily found at a local store, but you might want to make sure that you can find hardware, if it's visible after mounting, that matches the color and finish of the art.
How heavy is the wall art? Will it securely mount to the location you have in mind, or will it be too heavy? Weight also effects shipping costs, so if shipping is not free be sure to know how much it will cost.
Below: Cowboys and pack horses showcased in metal wall art.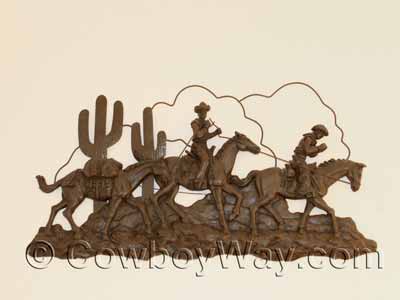 Below: Metal wall art of a stagecoach and team of six horses. It is made of the same metal throughout, but when light hits it the metal can reflect it back differently.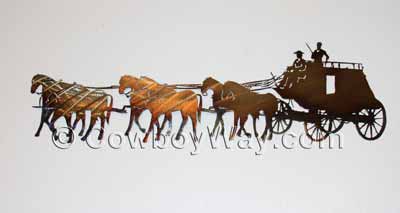 ---
Save The Metal Art For Later
If you find some cowboy metal wall art you like but you're not ready to purchase it right away, you can always add it to your shopping cart so it will be easy to find later.
In most cases Amazon will keep track of anything in your shopping cart for 90 days.
Later on, if you decide you don't want the items after all, it's easy to click "delete" and remove them from your cart.
In the meantime, if you want to check out with other items, click "Save for later" to move the wall art to a separate, but still easy-to-find list beneath your shopping cart.
Important: Putting item(s) in your Amazon shopping cart or "Save for later" list does NOT reserve them! It just makes them easier to find if they're still in stock when you come back.
Below: Screenshot image showing the "delete" and "Save for later" links when an item is in the Amazon shopping cart.
---
---
You Might Also Like...
Art
Bathroom
Car Mats
Ceiling Fans
Chairs
Chandeliers
Cowboy Night Light

Lighted steer head

Cowhide
Cow Skulls
Dry Erase Boards
Glass
Napkins
Office
Party Supplies
Rugs
Shower Curtains
Table
Tapestries
Wagon Wheels
Wall Decals
Wallpaper
Wedding