Cowboy Toilet Paper Holders
Below are cowboy toilet paper holders for sale on.
---
---
The selection is usually excellent with a wide variety of toilet paper holders in cowboy, cowboy boots, spurs, horse, saddle, rustic, and more designs. Please scroll down lower on this page for toilet paper trivia.
Below: A toilet paper holder with a cowboy riding a bucking horse.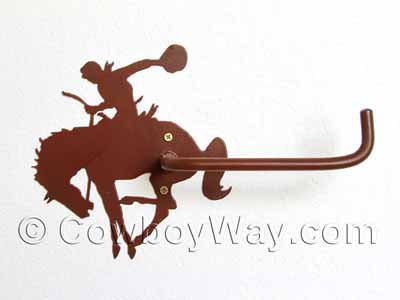 ---
From eBay and Amazon
---
See more cowboy toilet paper holders on eBay
A Few More From Amazon
---
Toilet Paper Trivia
In 1700s Colonial America toilet paper was a matter of whatever was handy. Grass, leaves, corncobs, and other convenient (and disposable) items were commonly used. When newspapers and catalogs became widely available they became popular for use as toilet paper as well.
The first edition of the Farmers' Almanac was printed in 1818 and from the beginning it was popular for both reading and for use as toilet paper. In 1910 the obliging folks that published the Almanac even began pre-drilling holes in the corners of the publication to make it easy for readers to hang in their outhouses.
In the United States, Joseph Gayetty is usually credited as being the inventor of the first commercially available toilet paper. Gayetty's toilet paper was first marketed in 1857 and was sold in packages of flat sheets, not the rolls we are accustomed to now. The product was marketed and sold into the 1920s. By most accounts we could find Mr. Gayetty's invention was not all that popular: People failed to see the need to pay for something when they could use other materials (such as newspapers and catalogs) for free.
Below: An advertisement for "Gayetty's Medicated Paper For The Water-Closet," the first commercially available toilet paper in the United States.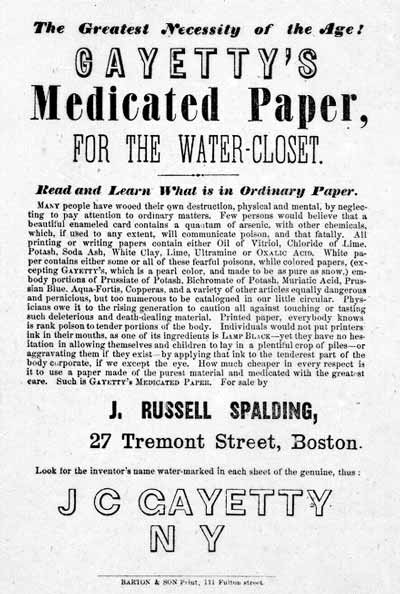 Public domain image.
In 1891 a patent was issued to Seth Wheeler for his "Wrapping or toilet paper roll" for toilet paper on a roll with tear-off sheets
Below: Seth Wheeler's patent for toilet paper on a roll.
Public domain image.
In or around 1930 (dates we found vary) Northern Tissue (now Quilted Northern) began offering the first splinter-free toilet paper. They were so proud of this they boldly placed "Splinter-free!" on many of their early ads.
Toilet paper didn't become widely popular and accepted until towards the end of the 19th century when more and more new buildings were constructed with modern-style, flushing, toilets. The new toilets couldn't accommodate flushing things like sheets of paper from newspapers or catalogs (let alone corncobs) so modern toilet paper, and toilet paper holders, were here to stay.
---
Save The Toilet Paper Holder For Later
If you find a toilet paper holder on Amazon you like but you're not ready to purchase it right away, you can always add it to your shopping cart so it will be easy to find later.
In most cases, Amazon will keep track of the items in your shopping cart for 90 days.
Later on, if you decide you don't want the items after all, it's easy to click "delete" and remove them from your cart.
In the meantime, if you want to check out with other items, click "Save for later" to move the items to a separate, but still easy-to-find list beneath your shopping cart.
Important: Putting an item in your Amazon shopping cart or "Save for later" list does NOT reserve it! It just makes it easier to find if it's still in stock when you come back.
Below: Screenshot image showing the "delete" and "Save for later" links when an item is in the Amazon shopping cart.
---
---
You Might Also Like...
Art
Bathroom
Car Mats
Ceiling Fans
Chairs
Chandeliers
Cowboy Night Light

Lighted steer head

Cowhide
Cow Skulls
Dry Erase Boards
Glass
Napkins
Office
Party Supplies
Rugs
Shower Curtains
Table
Tapestries
Wagon Wheels
Wall Decals
Wallpaper
Wedding