Note: Links with green underlines are shopping links and will open in a new window
What Are Slobber Straps?
Slobber straps are pieces of leather that attach reins to a bit (see photos below). They generally serve three purposes:
Slobber straps can take a lot of everyday wear and tear off of expensive reins. For example, if a horse takes a drink while wearing reins with slobber straps, the slobber straps will help keep the reins out of the water. They are designed to be easily removed and replaced.
Some reins can be very lightweight. Lightweight reins, when picked up on and released by a rider, may be so light that the horse can have trouble feeling the differences. Slobber straps can add enough weight to the end of the reins that the horse can more easily feel communication through the reins from the rider.
Some styles of reins, such as mecates, are not easily attached directly to a bit. In this case, the slobber strap is attached to the bit and the mecate is attached to the slobber strap.
Slobber straps can be plain, or fancy with tooling, lacing, buckles, conchos, etc.
Below: Cowhide-covered slobber straps being used with a nylon mecate.
Below: Slobber straps with leather split reins. These are plain leather without any fancy tooling, buckles, etc.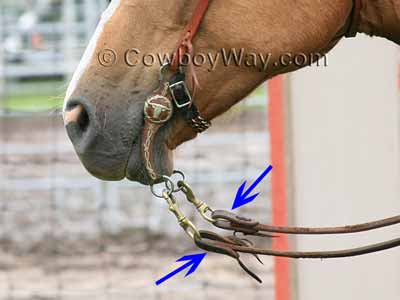 ---
Two Main Types
Slobber straps come in two main styles. One style is designed to be used with a mecate, and the other type is designed to be used with split reins (or a similar rein). The difference between the two styles is in how the mecate or reins attach to the slobber strap.
Slobber straps for mecates have one large hole in each end to allow the mecate to be pushed through and tied.
Slobber straps for split reins have two small holes in each end that line up with holes in the reins. This allows for a small piece of leather about the size of a shoestring to slide through the holes and tie the slobber strap to the rein.
---
What Is / Are...
Horse Tips
Horse Tips
Short tips to help horse owners and anyone who lives or loves a Western lifestyle do something faster, easier, or better.
Link To This Page
If you found this page useful or interesting and would like to link to it from your own website or blog, you can use the small code snippet below to make a link. Thanks!
Use ctrl+C in Windows or command+C on a Mac to copy the link.
<a href=""></a>
---
Below: Like and share this page on Facebook!