What Are Cowboy Chinks
A cowboy's chinks are similar to chaps.
---
---
Chaps and chinks are leather leg coverings worn by horseback riders – typically cowboys and cowgirls – as protection against weather, timber, brush, kicks, rope burns, and other hazards.
Both chinks and chaps are buckled around the waist, and are open in the back so a rider's seat is not covered.
While chaps run the full length of the cowboy or cowgirl's legs chinks are shorter, reaching below the knee but ending before the bottom of the leg.
Below: A pair of cowboy chinks.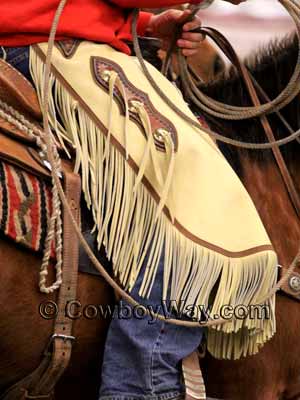 ---
Comparing Chinks To Chaps
The two most common styles of chaps are shotgun and batwing.
Shotgun chaps

(which get their name from their straight design, similar to a shotgun barrel) are the original style of chap for working cowboys.

They run the full length of the leg, and are typically closed around the leg from top to bottom.

Modern shotgun chaps are usually made with a zipper or other fasteners running from the top of the leg to the bottom to make them easy to put on and take off.

Older shotgun chaps - or new ones designed on an older style - might be enclosed from top to bottom requiring the rider to step into them like a pair of jeans.

Batwing chaps

are a style that came along after shotgun chaps.

Batwing chaps also run the full length of the leg, but are typically only closed around the leg from the top of the chap to just above the knee. Buckles, snaps, and other fasteners are common.

Batwing chaps are fuller cut than the shotgun style, having a generous amount of leather that overlaps the leg.
Below: A pair of shotgun chaps.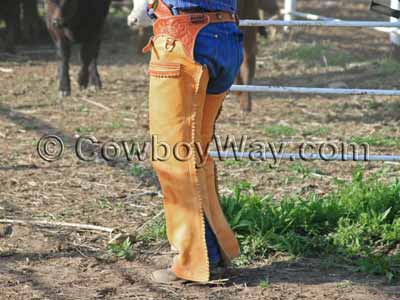 Below: A cowboy (rodeo pickup man) wearing batwing chaps.
Chinks are similar to chaps, but are shorter, typically hitting the rider below the knee but above the ankle. They are fastened around the rider's legs by snaps, buckles, or other fasteners, but the fasteners stop above the back of the knee, allowing the chinks to move more freely from that point downward.

The fringe on chinks is also often longer and more prominent than fringe found on chaps (with the exception of bronc riding or bull riding chaps).
Below: A fancy set of chinks with the hair left on the hide and a double set of fringe.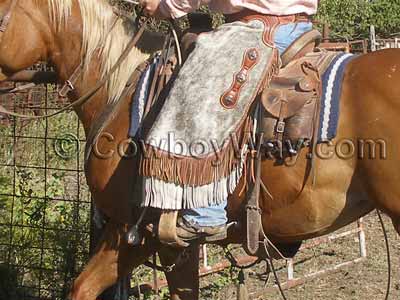 ---
Pronouncing Chinks and Chaps
"Chinks" are pronounced pretty much the same way they are spelled, with a hard "ch" sound as in "cherry" or "chipmunk." Chaps, on the other hand, are pronounced with a soft "ch" which means they are pronounced "shaps."
From Etsy and eBay
---
---
---
What Is / Are...
You Might Also Like