How To Saddle A Horse - Page 2 of 3
How to saddle a horse in step-by-step photos. This is page two of three and covers the front cinch.
---
Lower The Cinches, Breast Collar, and Stirrup
Walk to the horse's opposite side and gently lower the cinches, breast collar, and stirrup so they hang down neatly.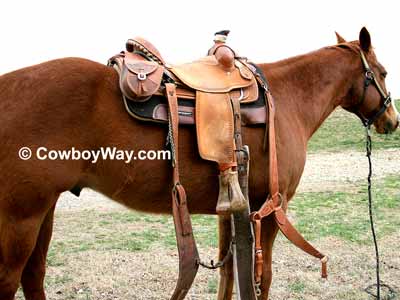 ---
Snug The Front Cinch
Return to the left side of the horse.
Your most important job at this point is to use the front cinch to quickly but gently snug the saddle onto the horse. If you want to, you can hook the left stirrup over the saddle horn so it is out of your way.
Lace the latigo through the front cinch ring (yellow arrow).
Then bring the latigo back up and down through the D-ring on the saddle's front rigging (blue arrow).
Next, take the latigo back down through the front cinch ring again (green arrow).
Pull the tail of the latigo up to snug the saddle to the horse. During this step you just want the front cinch to be snug enough to keep the saddle secure, but not as tight as it would be if you were ready to get on and ride. Stick the tongue of the front cinch ring through the nearest hole in the latigo.
---
Advertisement - Article continues below.
---
When done, lace the end of the latigo through the latigo keeper (red arrow) to keep it out of your way.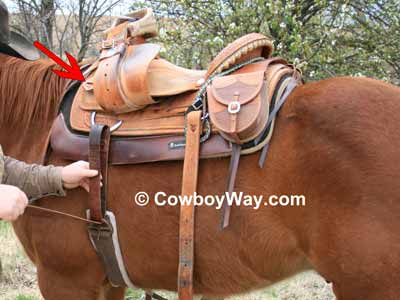 Tip: If you are using a leather latigo and it is sticky or difficult to slide, try putting a little baby powder on it to help it slide better.
---