How To Estimate Western Cinch Size
There are several different ways to measure your horse for a Western cinch.
The most reliable way we have found to measure a horse for a Western cinch is:
Measure the horse's girth, aka heart girth (in inches)
Divide that measurement by 2
Subtract 3 inches
NOTE: If you don't know how to measure your horse's girth, please see our article here: How To Measure Your Horse's Girth.
The horse in the photo below measured 77 inches for her heart girth. So, to estimate her cinch size we're going to take her hearth girth, divide that measurement by 2, then subtract 3 inches:
77 inches divided by 2 = 38.5 inches
38.5 inches minus 3 inches = 35.5 inches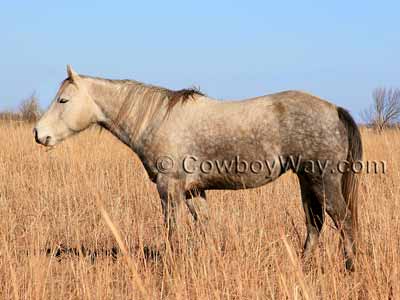 That's darn close! The horse in the photograph wears a 36 inch cinch. A different horse we measured the same day had a 75 inch heart girth. Seventy-five divided by 2 is 37.5, minus 3 inches gives us an answer of 34.5. That's also very close - this mare wears a 34 inch cinch.
---
Advertisement - Article continues below.
---
This Is Just An Estimate...
Calculating your horse's cinch size using the method above is not always accurate. There are enough differences in saddles and horse body types to make any method of measuring for a cinch little more than an educated guess.
Measuring an old cinch (if you have one) that fit the horse and saddle well would be a better way of finding out a good size for a new cinch, but that's not always possible. Of the methods we have tried, however, the one we described above has been the most accurate.
---