How To Estimate Western Cinch Size
There are several different ways to measure your horse for a Western cinch.
The most reliable way we have found to measure a horse for a Western cinch is:
Measure the horse's girth, aka heart girth (in inches)
Divide that measurement by 2
Subtract 3 inches
NOTE: If you don't know how to measure your horse's girth, please see our article here: How To Measure Your Horse's Girth.
The horse in the photo below measured 77 inches for her heart girth. So, to estimate her cinch size we're going to take her hearth girth, divide that measurement by 2, then subtract 3 inches:
77 inches divided by 2 = 38.5 inches
38.5 inches minus 3 inches = 35.5 inches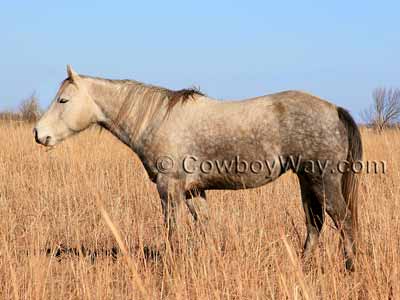 That's darn close! The horse in the photograph wears a 36 inch cinch. A different horse we measured the same day had a 75 inch heart girth. Seventy-five divided by 2 is 37.5, minus 3 inches gives us an answer of 34.5. That's also very close - this mare wears a 34 inch cinch.
---
Advertisement - Article continues below.
---
This Is Just An Estimate...
Calculating your horse's cinch size using the method above is not always accurate. There are enough differences in saddles and horse body types to make any method of measuring for a cinch little more than an educated guess.
Measuring an old cinch (if you have one) that fit the horse and saddle well would be a better way of finding out a good size for a new cinch, but that's not always possible. Of the methods we have tried, however, the one we described above has been the most accurate.
---
---
---
How To...
… Care For Your Felt Cowboy Hat
… Care For Your Saddle Pad Or Blanket
… Close A Gate With A Chain Latch
… Estimate Cattle Age By Their Teeth
… Fishtail Braid Your Horse's Tail
… Make A Bridle Rack Out Of Tin Cans
… Make A Collapsible Wood Saddle Rack
… Make A Flag Boot Out Of A Horn
… Make Homemade Hoof Conditioner
… Make Homemade Horse Fly Spray
… Measure A Western Saddle Seat
… Put A Horn Knot On Your Rope
… Put A Speed Burner On A Honda
… Recognize Common Horse Colors
… Recognize Common Horse Face Markings
… Stop A Saddle From Squeaking
… Tell A Boy Cow From A Girl Cow
… Tell A Horse Skull From A Cow Skull
… Tie A Stopper Knot
Tie a stopper knot for the end of a rope, or a metal, rawhide, or plastic honda
… Tie A Stopper Knot For A Honda
Tie a stopper knot for a tied honda
… Understand Leather / Hide Thickness
… Weigh A Horse and Optimize Rider Weight
… Wrap A Saddle Horn With Rubber
You Might Also Like...