How To Understand Leather Thickness
If you have ever shopped for leather or hide you probably know that their thickness is usually given in ounces.
---
---
If you are confused how leather ounces translates into thickness, it's actually quite easy: One ounce is equal to 1/64 of an inch in thickness.
So, for example, if the weight of a piece of leather or hide is said to be 4 ounces, that would mean you multiply 1/64 by 4, which would equal a thickness of 4/64 of an inch. Reducing the fraction down to the lowest common denominator, our example piece is 1/16 of an inch thick.
---
From Etsy
From Etsy. Article continues below.
---
Since leather and hide often varies in thickness - even if it has been processed to make it more uniform - the weight might be given in a range, something like "4 to 4.5 ounces."
Leather / HideThickness Chart
Below is a handy chart converting ounces into thickness for leather or hides.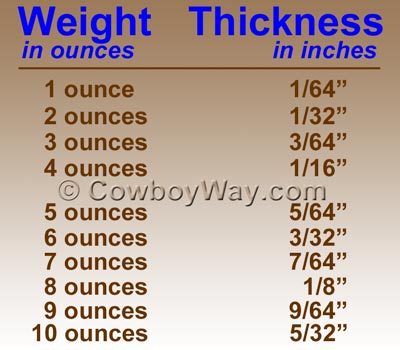 ---
Leather Thickness and A Quarter
A USA quarter is approximately 1/16 of an inch thick, which is the same thickness as a 4 ounce piece of leather.
---
Pin it now!
---
---
---
---
How To...
… Care For Your Felt Cowboy Hat
… Care For Your Saddle Pad Or Blanket
… Close A Gate With A Chain Latch
… Estimate Cattle Age By Their Teeth
… Fishtail Braid Your Horse's Tail
… Make A Bridle Rack Out Of Tin Cans
… Make A Collapsible Wood Saddle Rack
… Make A Flag Boot Out Of A Horn
… Make Homemade Hoof Conditioner
… Make Homemade Horse Fly Spray
… Measure A Western Saddle Seat
… Put A Horn Knot On Your Rope
… Put A Speed Burner On A Honda
… Recognize Common Horse Colors
… Recognize Common Horse Face Markings
… Stop A Saddle From Squeaking
… Tell A Boy Cow From A Girl Cow
… Tell A Horse Skull From A Cow Skull
… Tie A Stopper Knot
Tie a stopper knot for the end of a rope, or a metal, rawhide, or plastic honda
… Tie A Stopper Knot For A Honda
Tie a stopper knot for a tied honda
… Understand Leather / Hide Thickness
… Weigh A Horse and Optimize Rider Weight
… Wrap A Saddle Horn With Rubber
You Might Also Like...