Who Was Trigger?
It seems like there wasn't a child in the world from the late 1930s into the 1950s that didn't instantly recognize the name Trigger.
Trigger (1932? - 1965) was a famous golden palomino horse that belonged to entertaining superstar Roy Rogers (1911-1998). In the movies and television shows they starred in together, Roy was known as King Of The Cowboys, and Trigger was known as the Smartest Horse In The Movies.
Below: A 1938 publicity photo of actress Lynne Roberts, Roy Rogers and Trigger.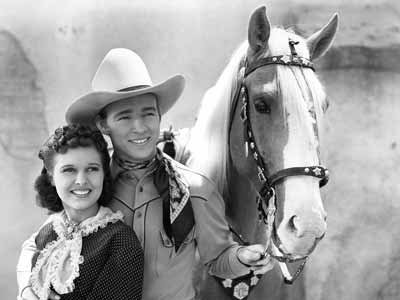 Trigger brought sunshine into the lives of people worldwide, particularly children, with the brilliance of his golden coat, and with his bravery and brains on movie and television screens.
The beautiful palomino stallion also brought encouragement and hope to people in a very personal way when he walked quietly up stairs or rode in elevators to visit those who needed him most while they were in hospitals or shelters.
Trigger was beautiful, faithful, and a cowboy's best friend. He was a high rearing, fast running superhero that could shoot a gun and untie ropes, but still allow the weakest and most timid of children to sit safely on his magnificent back.
Below: An early publicity photo of Roy Rogers and his palomino horse, Trigger.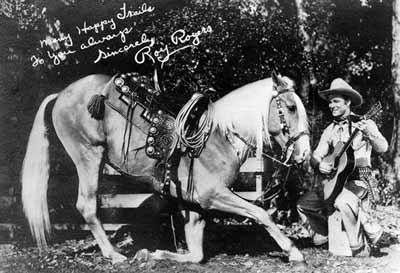 ---
Trigger: Beginnings as Golden Cloud
The golden palomino stallion that would become famous to the world with the name Trigger was born on a ranch in San Diego, California. In researching this article we found conflicting information that he was born in either 1932 or 1934.
The manager of the ranch was a man named Roy F. Cloud, and the name originally given to Trigger was Golden Cloud.
Golden Cloud's sire was a thoroughbred and his dam was an unregistered mare sometimes described as a cold-blooded mare. At around the age of three Golden Cloud was sold to Hudkins Stables of Hollywood, California, a stable that provided horses for use in the movie industry.
Golden Cloud's first job in the movies was as a mount for Olivia de Havilland for her role as Maid Marian in the 1938 movie "The Adventures of Robin Hood."
Below: Actress Olivia de Havilland in the 1938 movie "The Adventures of Robin Hood."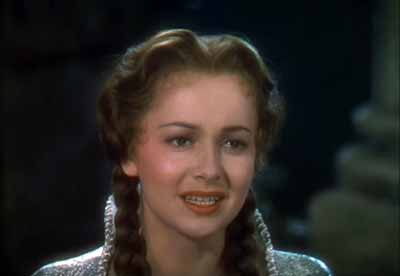 ---
Roy Meets Trigger
In 1938, the same year Golden Cloud appeared in "The Adventures of Robin Hood," a young, successful singer had recently changed his name from Leonard Slye to Roy Rogers. Wanting to also become a leading man as a singing cowboy in Western movies, he was preparing for his first role as the star of the new film "Under Western Stars."
And, like any good movie cowboy, the new leading man needed a horse.
Several different stables in the area brought horses to Roy for him to try. Roy remembered that there were six or seven really good horses to choose from, everyone of them good looking, fast, and well trained.
But one of the horses had a special impact on Roy. One of them was Golden Cloud.
When Roy Rogers rode Golden Cloud for the first time it was love at first ride. The horse had speed and power, an easy lope, and a calm and willing attitude. The young actor remembered that after he rode Golden Cloud he never even considered any of the other horses.
---
Golden Cloud Gets A New Name
After Roy had chosen Golden Cloud to join him in "Under Western Stars," he was practicing his quick-draw on the movie set. Fellow actor Smiley Burnette, who played Roy's sidekick in the movie, was watching nearby.
Seeing Roy's increasing speed at the quick-draw, Burnette compared it to Golden Cloud.
"Roy," he said, "as quick as that horse of yours is, you ought to call him Trigger."
Roy liked the suggestion and began calling Golden Cloud by his new name of Trigger from then on.
When "Under Western Stars" was released it was a success with critics and audiences both. It was a "B" grade Western but its popularity caused it to be shown in many first-run movie theatres.
The crowds loved Roy Rogers and they loved Trigger, too. One of the most successful duos in entertainment history was born.
---
"Sell The Palomino To Me"
In the months after "Under Western Stars" was released Roy toured the country promoting the film. People everywhere asked him about the horse he rode in the movie, and he quickly realized that audiences loved Trigger almost as much as he did himself.
From the beginning Roy openly and unapologetically loved the horse. He wanted to own him for himself so he could not only ride him in more movies, but also take him out on personal appearances, too.
However, while promoting "Under Western Stars" the full measure of Trigger's popularity with audiences began to sink in. It was then that another thought concerning Trigger occured to Roy: He realized that a huge part of his newfound stardom was because he had been paired with Trigger. Since the horse was owned by a large stable that provided horses for movies and television shows, he began to worry that the horse might be rented out someone else.
As badly as he wanted to own Trigger, however, and even though "Under Western Stars" had made him a star, he was still a contract player with Republic Pictures making $75.00 per week. It hardly seemed like enough to take care of himself and his wife and have enough left over to buy a rising equine star.
But Roy Rogers often described himself as an optimist. Having no idea how he would actually afford the horse he went ahead and asked Clyde Hudkins of Hudkins Stables to sell him Trigger.
Hudkins agreed to sell Trigger to Roy for the whopping sum of $2,500 (roughly equivalent to $50,000 today). Roy's head spun when he heard the amount, but he shook hands on the deal.
Roy faithfully made payments on Trigger, "just like a bedroom set," he said, until the horse was completely paid for. Roy would later say it was "for sure and certain the best $2,500 I have ever spent."
---
Trigger The Superstar
Starting from Roy Rogers' very first leading role in "Under Western Stars" Trigger appeared in all of Roy's movies. That was a total 88 movies by Roy's count.
Trigger also appeared with Roy in all 100 episodes (some sources say 104) of The Roy Rogers Show on television, which aired on NBC from 1951 - 1957.
As Roy Rogers career soared to superstardom Trigger carried him along for the ride, becoming just as much an American icon as his human counterpart. As soon as Roy had enough influence with the movie studio he insisted that Trigger got top billing, right along with himself.
In addition to top billing, Roy successfully got Trigger billed as the "Smartest Horse In The Movies."
Below: A 1945 movie poster. Notice Trigger's billing as the "Smartest Horse In The Movies."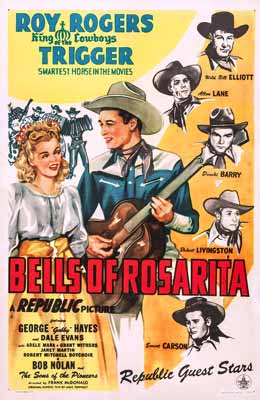 Trigger dazzled audiences with his beauty and brains, performing a seemingly endless list of tricks that included untying ropes and shooting a gun.
While Roy and Trigger always stood for what was right, they never let that get in the way of a lot of good, heart-pumping action. In movie after movie and in their television shows, Roy and Trigger never failed to thrill audiences with their wild cowboy-and-faithful-horse adventures.
Trigger and Roy not only starred in movies and television together but also made countless personal appearances all across the country, and tirelessly visited children in hospitals and shelters.
Below: A 1959 photo of Roy, Trigger and a horse trailer with a custom paint job.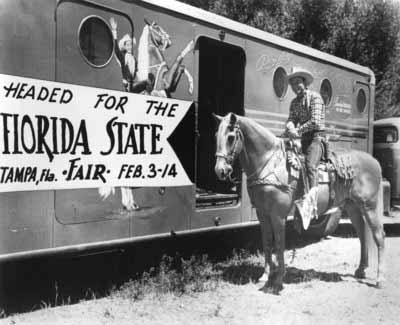 ---
Star Power
From the beginning, Trigger's star power was obvious to someone else besides Roy. It was also obvious to Herbert Yates, the head of the movie studio Roy was under contract with.
Not long after Roy and Trigger had established themselves as a highly successful team Mr. Yates wanted to cast Roy in a non-Western as a cigarette smoking, hard drinking reporter. Roy refused the part, telling Mr. Yates he knew his fans wouldn't like him in that kind of a role and he didn't want to let them down.
Herbert Yates was furious at Roy's refusal and retaliated by telling him that if he didn't take the part he would take away his upcoming roles in Westerns. Not only that, Yates went on to say that he would let another actor ride Trigger, confident the horse could make a star out of anyone.
The argument ended abruptly when Roy told Yates that he had purchased Trigger for his own, something the studio head had been unaware of. Roy told Yates if he continued to try to cast Roy in the role of a drunkard Yates wouldn't just be losing him in upcoming Westerns, he would be losing Trigger, too.
As furious as he was, Herbert Yates quickly backed down and cast someone else as the reporter. He never took away any of Roy's cowboy roles, either. He had been angry enough to lose Roy, his wildly popular human star, but he wasn't about to lose Trigger, too.
---
Goodbye, Trigger
Trigger retired from show business when Roy stopped doing "The Roy Rogers Show" on television in 1957. According to "Happy Trails, Our Life Story," by Roy Rogers and Dale Evans, Trigger was retired to a stable near the Rogers' home where he could roam through green grass and relax in the California sunshine.
Below: Another movie poster also giving Trigger billing along with Roy.
Trigger passed away peacefully in 1965. Assuming he was born in 1932, he would have been 33 years old at the time of his death.
Upon hearing of Trigger's death the Smithsonian Institute in Washington, D.C. asked Roy for Trigger's body for their collection of historical Americana. Roy declined, not wanting Trigger's final resting place to be so far away from himself out in California.
Dale Evans, Roy's wife and co-star in many of his movies and in "The Roy Rogers Show" on television, wanted Trigger to have a nice funeral with a beautiful headstone. Roy wasn't comfortable with that idea either, not liking the thought of putting his friend and partner of so many years into the ground.
Roy knew he wanted to preserve Trigger not only for himself but for all the fans that loved him too. He contacted Bischoff's Taxidermy, located at that time in Los Angeles, California. With great care Bischoff's mounted Trigger's hide over a plaster likeness of a horse in a rearing position, a famous pose recognizable to Roy Rogers and Trigger fans everywhere.
The mounted Trigger was first put on display at the Roy Rogers/Dale Evans Museum when it originally opened in Apple Valley, California in 1967. The entire museum, including Trigger, was relocated to nearby Victorville, California in 1976.
After Roy's death in 1998 and Dale's death in 2001 the museum was moved again in 2003, this time to Branson, Missouri. Trigger, the museum's most popular attraction, again made the move.
Dale's buckskin horse Buttermilk and Bullet the Wonder Dog (a German Shepherd who was also a family pet) were also mounted after their deaths and put on display at the museum, too. Sadly for fans of Roy Rogers and Dale Evans everywhere, the museum closed on December 12, 2009.
---
More Than One Trigger?
Roy Rogers' and Trigger's popularity soared so high so quickly that Roy knew early on that it would take more than one horse to meet his needs for movies, personal appearances, and later on, television shows.
While the original Trigger was mostly reserved for movies and television, Roy purchased another palomino for personal appearances, a horse he called Little Trigger. Little Trigger was not registered with any breed organization and was used extensively by Roy for personal appearances in the 1940s and the 1950s and also appeared in some of Roy's movies.
In 1943 Roy and Trigger were famously featured on the cover of "Life" magazine. The high, white stockings on this Trigger make us guess it was Little Trigger, not the original Trigger. Image below.
Below: Roy Rogers seated on a rearing Trigger on the cover of "Life" magazine, 1943.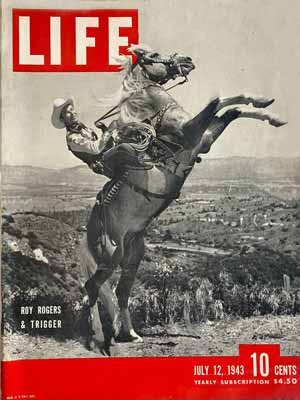 Roy also purchased another horse to give the original Trigger a break. The second "other Trigger" was a registered Tennessee Walking Horse with the registered name of Allen's Gold Zephyr, but Roy called him Trigger Jr.
Roy Rogers didn't like to publicly discuss that there was more than one Trigger, and liked to keep up the outward appearance that there was just one. Roy knew that many of his and Trigger's fans were children too young to understand that one horse shouldn't be asked to keep up the same demands Roy himself kept.
Roy loved his young fans, and never wanted the ones that saw him and Trigger in person to miss out on the thrill of believing they were seeing the original horse they had fallen in love with on movie and television screens.
---
Trigger Trivia
Trigger's original name was Golden Cloud. He was born on a ranch in San Diego, California in either 1932 or 1934. Roy Rogers changed Golden Cloud's name to Trigger in 1938 for their first movie together, "Under Western Stars."
After Roy Rogers made several highly successful movies, he went to the studio to ask them to give billing to Trigger in the opening credits as the "Smartest Horse In The Movies." The studio agreed.
When Trigger died in 1965 his hide was mounted over a plaster cast of a rearing horse. The mounting was done by Bischoff's Taxidermy, originally located in Los Angeles, California, but currently located in North Hollywood, California.
Trigger's first movie role was with Olivia de Havilland for her role as Maid Marian in the 1938 movie "The Adventures of Robin Hood." Miss de Havilland may be best know for playing Melanie in "Gone With The Wind" (1939).
Every chance he got when making personal appearances, Roy placed Trigger and his fancy horse trailer outside of the arena or building where they were appearing before the show. He wanted all the kids to be able to see Trigger, especially the ones that couldn't afford to buy a ticket.
Trigger's finest saddles were made by Edward H. Bohlin, known as the Michelangelo of saddle making. Mr. Bohlin got his start as a famous saddle maker by making tack for Tony, the famous movie horse of cowboy actor Tom Mix. Many of Trigger's saddles were covered in intricate patterns in silver and gold, and some of them weighed as much as 150 pounds.
The word "palomino" is a description of a horse's color, not its breeding. A palomino horse has a coat of varying shades of a yellow or golden color, and a white mane and tail. Trigger was a golden palomino, meaning his coat was a deep gold.
While Trigger was not registered with any horse breed association, he was registered with the Palomino Horse Association, an association that registers horses according to their color as opposed to their breeding.
The original Trigger remained a stallion his entire life, but never sired any offspring.
Trigger passed away peacefully in 1965. Assuming he was born in 1932, he would have been 33 years old at the time of his death.