Who Was Tim Tam?
Tim Tam was a successful American racehorse. Even so, most of his fame is thanks to an Australian baker.
Below: The front of a package of Tim Tam cookies.
Tim Tam - The Early Days
Tim Tam (1955 - 1982) was bred and owned by the legendary Calumet Farms in Lexington, Kentucky.
Did you know? Calumet Farms was founded by William Monroe Wright, who was originally best known as the founder of Calumet Baking Powder.
Born in 1955, Tim Tam's family was thoroughbred racing royalty. His sire was Tom Fool, an exceptional racehorse who was also an exceptional sire. Tom Fool was inducted into the National Museum of Racing and Hall of Fame in 1960.
Tim Tam's dam was a mare named Two Lea, a successful stakes winner in her own right.
Below: 1954 photo of Tim Tam's sire, Tom Fool (1949-1976).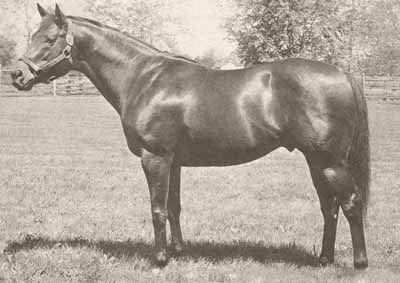 As a yearling Tim Tam sprained his fetlock in a pasture accident. As a result, he only had one race as a two-year old. He finished out of the money in fourth place in a twelve horse field, coming on strong at the end.
---
Tim Tam Turns Three
When Tim Tam began his three-year old racing season he was raced frequently. While he lacked the experience many of his contemporaries had he proved to be smart, willing, and fast. The dark bay colt raced a number of times in his early three-year old career, and his outs included 6 wins before the 1958 Kentucky Derby:
The Everglades Stakes
The Flamingo Stakes
The Fountain of Youth Handicap
The Florida Derby
The Forerunner Stakes
The Derby Trial
---
Triple Crown Dreams
As the 1958 racing season continued, the prospect of winning the most prestigious races of the spring racing season loomed in front of Tim Tam: the Kentucky Derby, Preakness Stakes, and Belmont Stakes.
Those three races, if won by the same horse in the same year, are considered to be the "Triple Crown" of horse racing. The most recent winners had been Whirlaway in 1941, and Citation in 1948, both of whom had also been bred by Calumet Farms, the same as Tim Tam.
As Tim Tam's successful spring racing season continued, Calumet Farms was anxious for a third Triple Crown, and racing fans were eager to see the exceptional colt claim the title.
Tim Tam's quest for the Triple Crown began brilliantly. He won the Kentucky Derby with a sprint at the end to overtake the leader at the wire. He won the Preakness Stakes, too, once again coming from behind to win.
A win in the Belmont Stakes seemed tantalizing close. Unfortunately, Tim Tam broke a sesamoid bone in the Belmont, but still finished an amazing and gutsy second.
---
Retirement, Then Fame. Sort Of.
After the Belmont Stakes Tim Tam retired from racing to stand at stud. Although his racing career had been cut short he was still voted the American Champion Three-Year-Old Male Horse for 1958. Years later, he would be inducted into the National Museum of Racing and Hall of Fame.
After Tim Tam retired from racing he was respected and well-remembered in horse racing circles, but his name faded from memory with the American public. His name may have disappeared from their minds entirely if it hadn't been for Australian baker Ross Arnott, owner of Arnott's Biscuits.
Did you know? In American we say "cookie." In Australia, they say "biscuit."
As luck would have it Ross Arnott was in America in 1958 and was watching as Tim Tam won the Kentucky Derby. He liked the sound of the horse's name, and chose it to be the name of a new cookie he was creating back home in Australia.
The story of how the famous racehorse came to be the name of a famous cookie is explained on the back of a package of Tim Tams. It says:
"After creating an irresistible chocolate cookie, Arnott's needed to find a suitable name. Australian baker, Ross Arnott, found inspiration at a U.S. racetrack in 1958 as the winning horse, Tim Tam, galloped across the finish line. Since then, Tim Tam has become one of Australia's most beloved biscuits. Dive in and experience its winning chocolaty deliciousness for yourself."
Below: The back of a package of Tim Tam cookies, explaining how they were named after a horse.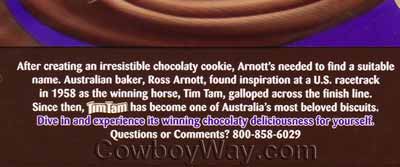 As a result of the Tim Tam cookie, the name of the racehorse Tim Tam is a household name in Australia, America, and other countries where the cookie is highly popular. However, if people don't take a moment to read the brief story on the back of the package, they might not be aware of where the name comes from.
The next time the rest of us have a delicious, chocolatey Tim Tam cookie, though, we can take a moment to remember the amazing racehorse that inspired its name.