Who Was Cocaine?
Cocaine was a legendary movie stunt horse owned by "Bad Chuck" Roberson.
Below: This image of Cocaine and owner "Bad Chuck" Roberson is on the cover of Roberson's autobiography "The Fall Guy".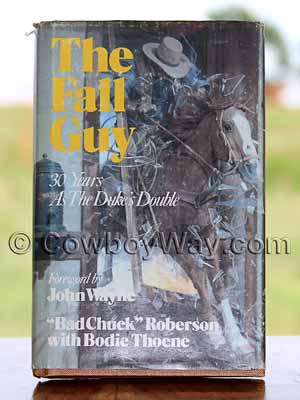 Cocaine (1944 - 1975) was a sorrel gelding owned by famous Hollywood stuntman Charles (aka "Chuck" or "Bad Chuck") Roberson.
According to Roberson's 1980 autobiography, when he (Roberson) was new to the movie stunt industry he wanted to train a stunt horse to perform a fall at an all-out run.
Previously, horses were subjected to cruel methods such as tripping to cause them to fall, or they were trained to fall at slower speeds with the action sped up on film in post production.
Chuck Roberson's autobiography "The Fall Guy" is out of print, but can often be found on Amazon.
Although people experienced in the movie stunt business told Roberson he could only successfully train a horse to fall at slower speeds, Roberson found and trained a mare named Coco to fall on cue from an all-out run, not just a lope.
Even though Coco was an excellent stunt horse, he sold her to his stuntman friend Jack "Jackie" Williams because he felt the mare was too short for his taller frame.
Next, Roberson found a taller horse, a sorrel gelding that he also trained to fall at a fast gallop. At first he leased the horse, then purchased him for his own, naming him Cocaine. Cocaine spent many successful years performing a wide variety of stunts in movies, including many falls from a fast gallop.
Cocaine's successful training had a big influence on the movie stunt industry where stunt horses were involved. His successful training and legendary career helped open a fresh trail for new, higher standards of training and ethical treatment of stunt horses.
Roberson spoke of his equine partner with affection, pride, and respect. Cocaine lived to the age of 31, leaving not only a personal legacy of excellence, but also a legacy of better lives for many of the movie and television stunt horses that came after him.
---
Awards And Recognition
Cocaine won the Craven award twice:
In 1953 for the movie "Hondo."
In 1972 for the movie "The Train Robbers."
The Craven Award was somewhat similar to a PATSY Award. However, where the PATSY Award was given to an animal in a starring role, the Craven Award was given to animals in the entertainment industry that didn't hold a leading role, but nonetheless excelled in other skills.
Below: The legendary stunt horse Cocaine jumping through a fake glass window in the movie "Chisum." He's being ridden by owner and trainer Chuck Roberson.