Cowboy Pictures Of Working Cowboys
Below are cowboy pictures of working cowboys (and a cowgirl) roping calves and gathering cows and calves.
Please scroll to the bottom of the pages for links to ranch rodeo pictures, bronc riding pictures, horse pictures, and more.
All photos are copyrighted © and property of CowboyWay.com
A cowboy on a buckskin horse ropes a calf.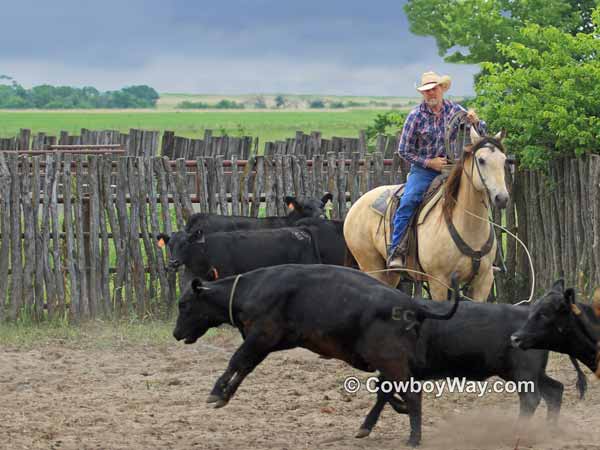 A cowboy sets a heel trap for a calf.
After searching for cattle in the brush, a young cowboy catches up with the herd.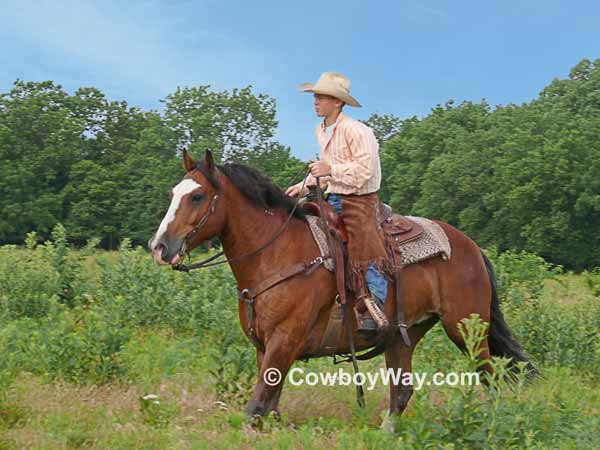 Cowboys can't do their jobs or even be who they are without their horses.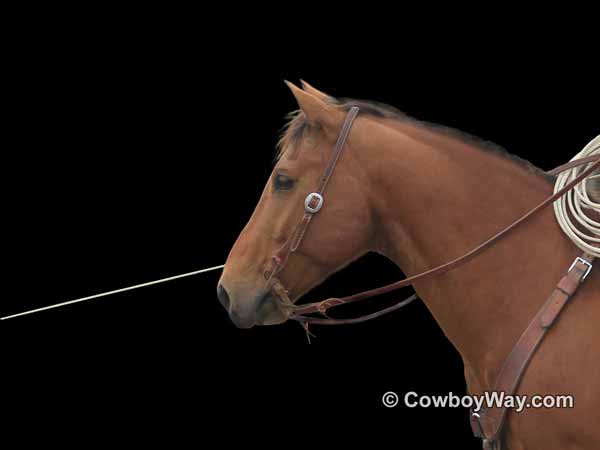 This cowboy successfully ropes both heels.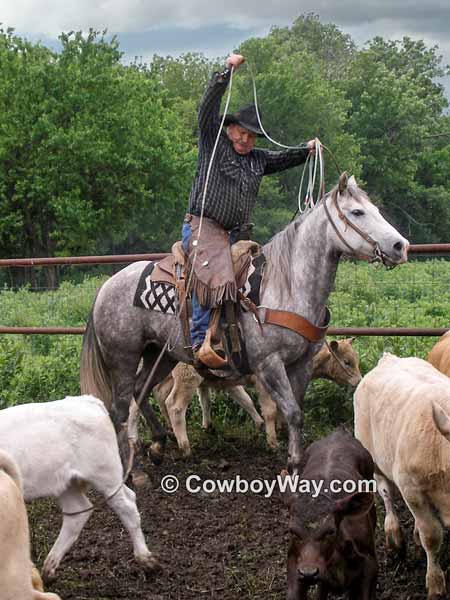 A cowboy gathers cows.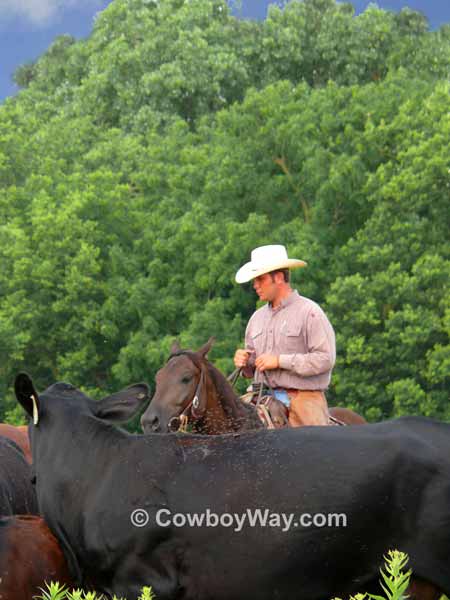 A cowboy laughs as he and his horse hold a calf for the ground crew.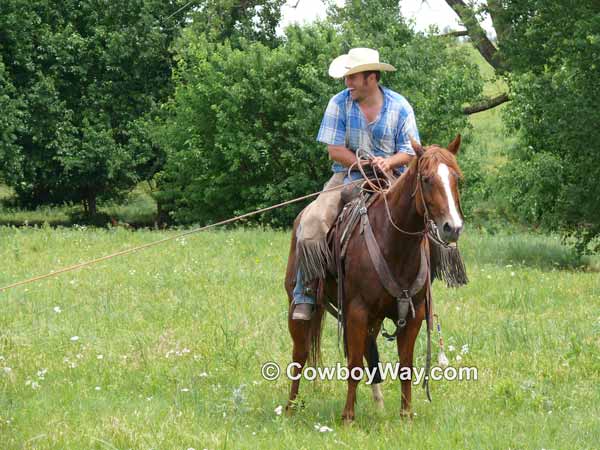 All photos are copyrighted © and property of CowboyWay.com
---
The Term "Cowboy"
Up until the late 1800's, the term "cowboy" was a rotten thing to call someone. During the American Revolution a "cowboy" (or "cow boy" or "cow-boy") was a Loyalist who stole Patriot cows, often luring the cows into the brush to shoot them.
As the new country of America expanded to the west the word "cowboy," with a growing list of negative connotations, went along with it.
According to authors Joseph G. Rosa and Robin May in their book "Buffalo Bill and His Wild West, A Pictorial Biography" it was Buffalo Bill Cody who rehabilitated the word in the minds of the American public. In Buffalo Bill's famous Wild West shows a "cowboy" was a man of bravery and honesty, often cast in roles during daring reenactments of wild west adventures as that of a hero.
Flamboyantly dressed and displaying extraordinary riding and marksmanship skills, the cowboys of Buffalo Bill's Wild West soon etched a new, much more positive meaning of the word "cowboy" into the minds of Americans.
---
Cowboys And The Early Days Of Rodeo
The heyday of the early American cowboy was barely a blink in time, from about the end of the Civil War in 1865 to approximately the mid 1880's, a bare 20 years later. Around this time a new event was born, an exciting, breathtaking, showcase of the early American cowboy and his skills. Eventually, this new event would be called rodeo.
The early exhibitions or contests of cowboy skills were often parts of Wild West shows, and had very different events than what we see in present day rodeos. The first ones often had a lineup of events that included things like bronco busting, steer and/or buffalo roping, sharp shooting, and horse races.
A little later they would also frequently have trick riding, an event often reserved for just the ladies.
While many of these events were held annually in various towns across the Southwest and the West, the birth of the Wild West show brought even greater exposure to these exhibitions and contests. Instead of being tied to just one location like most shows organized by towns, the Wild West show traveled the country and even abroad, taking the show on the road directly to millions of eager spectators.
By 1920 rodeos often featured three events just for cowgirls: bronc riding (saddle bronc, not bareback), trick riding, and at facilities with a race track, the relay race. The broncs had to ridden for 8 seconds (in those days men rode for 10), and the women could use two reins if they wanted to (the men used only one rein). Like the men, the women rode one handed.
By the mid-1920's events that had been known as "cowboy tournaments" and "cowboy contests" were starting to be called rodeos. Championship events at Boston Garden and New York City's Madison Square Garden were attracting nationwide attention.
In 1936 a group of rodeo cowboys walked out on a rodeo when the event's promoter refused to add the contestants' entry fees to the rodeo's total purse. Shortly thereafter the Cowboy's Turtle Association, the first organized body of American rodeo, was formed.
---