Wall Art of Horses and Longhorns
Below is wall art for sale from Carpenter Photos. This is the same Bill and Emma Carpenter that have owned and operated the CowboyWay website since its inception in 1999.
Most items are availabe on flat canvas, stretched canvas, metal, wood, acrylic, and more. Options vary per item.
Jump down below the artwork for artwork choices and Frequently Asked Questions.
---
Artwork Choices
Most of the artwork items above are availabe on flat canvas, stretched canvas, metal, wood, acrylic, and more. Below is a brief description of some of these choices. Note: Options vary per item.
Canvas
Canvas is a timeless classic for printed artwork. The texture of the canvas adds a layer of beautiful depth to the image. When ordering you can choose from two types of canvas:
Canvas - This is stretched canvas, aka gallery wrap canvas. Comes ready to hang.
Roll Print - Flat canvas, rolled and sent to you in a mailing tube for you to frame yourself. Note: Rolled prints also come in photo paper. Make sure you choose the option you want when ordering.
Below: Longhorn Cow In Moonlight on stretched canvas.
Acrylic
Acrylic gives a sleek, modern look to art. Choose between a floating frame on the back, or aluminum "stand offs" in the corners.
Below: Longhorn Cow With Shadow in acrylic. This one has aluminum stand offs.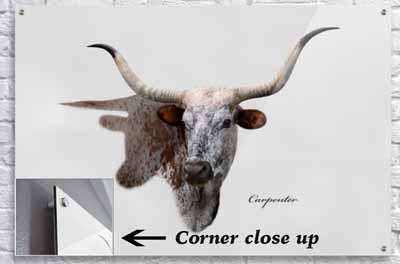 Mural
Breathtaking murals are a beautiful for choice for that special room in a home or office. Peel and stick application available in a variety of custom sizes.
Below: Stormy - Wild Mustang featured in a beautiful wall mural.
More
Additional choices for your wall art include brushed metal, framed prints, photo paper (aka rolled prints) and more. Please visit our Pictorem gallery for all your choices!
---
Frequently Asked Questions
Below we will try to answer common questions about Carpenter Photos and the artwork you see above.
Who Are You?
We are Bill and Emma Carpenter, the people that have owned and operated the CowboyWay website since its inception in 1999.
This is our artwork. The vast majority of it is from photos we have taken while living the lifestyle we live and love.
There are a few exceptions, however. For example, we have some items by the American artist Charles Russell. In those cases, we were able to find high-resolution copies of the art, clean it up digitally, and format it for use on modern printers.
Are We Ordering From You?
It's our artwork, but we use the services of Pictorem to print and fulfill our orders. Which means you will place your order directly with Pictorem.
We love Pictorem, and use them ourselves.They use state-of-the art printing techniques and inks, have great customer service, and offer extremely reasonable prices.
Why Are Your Prices Lower Than Similar Items Elsewhere?
Our prices are lower because there is no middleman. We supply our art directly to Pictorem, then they print, carefully package, and ship.
When using a middleman, we'd need to offer our art on their website. This is a terrific and valuable service, but they do charge fees. They earn their fees honestly, but it's still an expense we have to pass on to you.
Because you're not buying through a middleman we can skip the fees and offer lower prices directly to you. By the way, we love some of those middleman-websites. However, going direct from us to our favorite printer saves you money.
In addition, because you order directly with Pictorem we don't have to allot time to take your order, place it, keep you updated, package it, ship it, and so on. Pictorem does all this for us, and the time we save amounts to money saved for you.
Do I Get My Order Fast?
In most cases your order fullfillment time is longer at Pictorem than some other places. They stay incredibly busy because they're incredibly popular.
When you place an item in your shopping cart Pictorem will give you an estimated shipping date.
Also, as most of us know shipping times have slowed down considerably lately. After an item has shipped, no seller can be responsible if the shipping carrier is slower than what they originally estimated.
Is the Quality Good?
The quality of items from Pictorem is excellent! They are an industry leader in printing. We use them and recommend them.
How Do I Buy?
Find a piece of artwork in the items above, or visit the same items in our gallery on the Pictorem website. Click on the item, choose your options, and place your order.
How Much Is Shipping?
Shipping is FREE to the continenal United States and Canada.
For other locations or more information, see the shipping page on Pictorem.
What About Returns?
Pictorem has a 30-day money back guarantee! For details, please see this page on their website.
---
For More Information
If you have more questions you can contact Pictorem several ways. See the contact page on their website.
---
For The Best Shopping Experience
We're glad you visited the Carpenter Photos page on CowboyWay.com! For the best shopping experience, we suggest you visit our Carpenter Photos gallery on Pictorem. Thank you!
 You Might Also Like...
Canvas Art
Cardboard Cutouts / Standups
Horse Posters
Murals
Tapestries