Candy and A Cookie Named After Horses
Below are two types of candy named after horses
The first is a nougaty, peanuty, candy bar covered in chocolate. It was made famous by Mars, Inc., and is an American creation.
The second is a cookie (or biscuit, if you prefer) made up of two cookies with a chocolate filling between them, then covered in chocolate. It was created in Australia, but was named after an American racehorse.
Read on for more information about the Snickers candy bar and the Tim Tam cookie, both of which are sweet candy treats named after a horse.
You might also like:
Candy Named After Horses (you are here)
---
Snickers: The Candy Bar Named After A Horse
A fun piece of trivia for horse lovers everywhere is that the Snickers candy bar was named after a horse. It seems that Frank Mars, the founder of Mars, Inc., was quite fond of a family horse named Snickers, and when the time came to name his now-famous candy bar he named it after his equine pal.
A Little Snickers (The Candy Bar, That Is) Trivia
The Snickers candy bar was introduced in 1930 by Mars, Inc., the candy giant which has become famous for such sweet delights as the Snickers candy bar as well as M&M candies, the Twix candy bar, the Three Musketeer candy bar, and others.
The Snickers candy bar has a layer of chewy nougat on the bottom, peanuts and caramel on top, with the whole thing covered in milk chocolate. Snickers candy bars are the #1 selling candy bar in the world.
Below: A cut-open Snickers candy bar.

The Snickers bar comes in several sizes including the "regular" Snickers bar, Snickers Miniatures (or "Minis"), and Snickers Fun Size.
Below: Packages of Snickers Minis.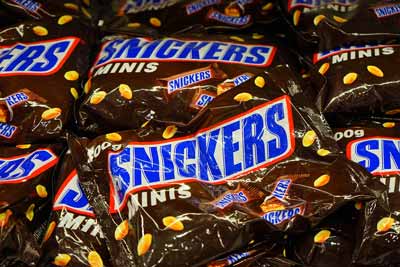 ---
Advertisement - Article continues below.
---
The Tim Tam Cookie
While not exactly candy, the Tim Tam cookie is covered in milk chocolate and it was named after a horse, so we're happy to include it on this page.
The Tim Tam cookie originated in Australia at the bakery/snack food manufacturer Arnott's Biscuits. Arnott's started working on the creation of the cookie in 1958, but it didn't reach the Australian market until 1964. Also in 1958 Ross Arnott was in the United States and saw the famous American race horse Tim Tam win the Kentucky Derby. Mr. Arnott liked the horse's name, and remembered it when it came time to name the new cookie creation.
The brief story of how it all came about is rather delightfully explained on the back of a package of Tim Tams. It says: 
"After creating an irresistible chocolate cookie, Arnott's needed to find a suitable name. Australian baker, Ross Arnott, found inspiration at a U.S. racetrack in 1958 as the winning horse, Tim Tam, galloped across the finish line. Since then, Tim Tam has become one of Australia's most beloved biscuits. Dive in and experience its winning chocolaty deliciousness for yourself."
Below: The back of a package of Tim Tam cookies, explaining how they were named after a horse.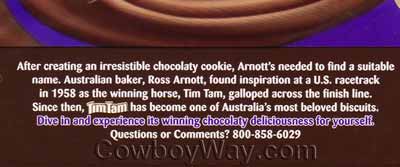 Below: The front of a package of Tim Tam cookies.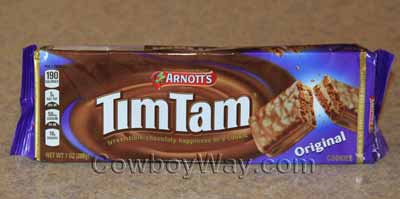 A Little Tim Tam (The Cookie, That Is) Trivia
Tim Tam cookies were originally available in Australia, but they're now sold in the United States, too.
A Tim Tam cookie is made up of two cookies with a chocolate cream filling in between, with the entire thing covered in chocolate.
Is The Tim Tam A Cookie?
On this page we keep calling Tim Tam cookies, well, cookies. But are they really cookies?
Yes and no. You see, in America, snack foods like Tim Tams are called a "cookie." But in Australia, the country the Tim Tam was founded in, the same type of snack food is called a "biscuit." On the American packaging for Tim Tams they're called both a "cookie" and a "biscuit," so we feel comfortable on this page calling them a cookie.
---
Advertisement - Arnott's Tim Tam Australian Chocolate Cookies Pack of 4 Variety / From Amazon
---
About Tim Tam, The Race Horse 
Tim Tam (1955-1982), the horse the Tim Tam cookie was named after, was a famous American race horse. Foaled in 1955, he was was bred and owned by Calumet Farm in Kentucky. He has a career record of 14 starts with 10 wins, 1 second, and 2 thirds.
Tim Tam had only one race as a two year old in which he finished fourth. However, he had an exceptional year as a 3 year old in 1958, winning:
The Everglades Stakes
The Flamingo Stakes
The Fountain of Youth Handicap
The Florida Derby
The Forerunner Stakes
The Derby Trial
The Kentucky Derby
The Preakness Stakes

After an impressive list of wins in his 3 year old year, Tim Tam was the favorite to win the Belmont Stakes. Adding the Belmont to his Kentucky Derby and Preakness wins would have made him a Triple Crown winner, an extremely prestigious title in American Thoroughbred racing. Unfortunately, Tim Tam broke a sesamoid bone in the Belmont, but still finished an amazing and gutsy second behind a horse named Cavan, and 5 lengths ahead of the 3rd place horse.
Although Tim Tam's racing career was cut short by his injury he went on to a successful career at stud. He was also voted the American Champion Three-Year-Old Male Horse for 1958, and was inducted into the National Museum of Racing and Hall of Fame in 1985, three years after his death in 1982. You might also like: Who Was Tim Tam?
---
---
You might also like:
Candy Named After Horses (you are here)