Funny Horse Names
Humorous, amusing, or funny horse names aren't uncommon.
That's probably because horse people are pretty terrific, and when it comes to naming their horses they often have quite a sense of humor about it.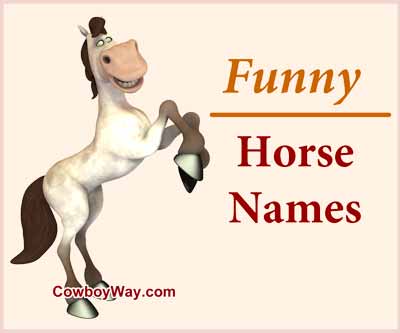 When it comes to naming horses it also doesn't hurt that a lot of breed registries restrict newly registered horse names to a maximum number of characters, and the names have to be unique (i.e., there can't already be a horse in that registry with that name). This means horse owners often have to be pretty clever about coming up with a horse name that's not already taken.
You might also like:
Funny Horse Names (you are here)
---
Funny, Humorous, or Simply Odd Horse Names
Below are a few funny names, and the story behind the name, that we particularly like. Some of the names are real, meaning the name belonged to an actual horse owned by someone we knew, or there was a famous horse by that name. Other names, however, are a funny name to give to a horse, and someone, somewhere, probably has, but we're not personally aware of it.
---
Bullwinkle D Moose - A friend of ours bred and raised a colt that she named "Bullwinkle D. Moose." He was named shortly after birth when his doting owner got a good look at his less-than-dainty head, face, and nose. She called him "Bullwinkle" for short, of course, and it was pretty difficult to miss the not-so-subtle resemblance between his head and the famous cartoon moose named Bullwinkle The Moose, also known as Bullwinkle J. Moose.
Bullwinkle may not have been a beauty contest winner, but he was a sweet and kind natured soul that was easy to love and great to ride.
---
Cocaine - This was the name of a horse owned by famous movie stuntman Charles "Chuck" (aka "Bad Chuck") Roberson (1919-1988). In Roberson's autobiography "The Fall Guy, 30 Years As The Duke's Double" (look for it on eBay or Amazon) he says he named his horse Cocaine because, referring to the horse's energy and willingness, he was "like a shot in the arm."
Below: Chuck Roberson, doubling for John Wayne, in the movie "Chisum." In this photo Roberson is riding his horse Cocaine as they jump through a fake glass window.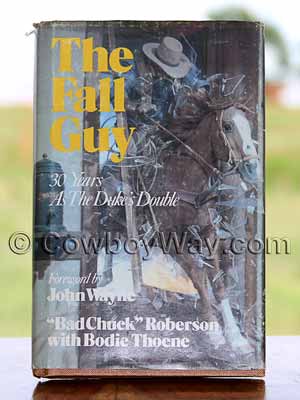 Roberson's autobiography "The Fall Guy" is a great read but it's out of print. However, you can often find copies on eBay or on Amazon.
---
Dappleganger - This name is just a fun way of spoofing the word "doppelganger." A doppelganger, in case you're not familiar with the word, is a person who looks so similar to another person that it can be difficult to tell them apart. Unlike twins or other biological family members, a doppelganger isn't related to the person they look like.
A horse named Dappleganger doesn't need to resemble another horse, but it does add to the fun if the horse happens to be a dapple gray.
---
Fancy - This isn't an uncommon horse name. However, the "Fancy" we're referring to here was a horse owned by country music singing legend Reba McEntire. According to Reba, she knew a lady who told her that her horse (Reba's, that is) was the ugliest horse she'd ever seen. So, Reba said, she named the mare Fancy to make her feel better.
---
Gaits of Hell - This is a play on words, of course, for the "Gates of Hell" of myth and legend that refer to the supposed entryway from this world to the underworld. If you have a horse with rough or uneven gates this could be the perfect name.
However, if you ever need to to sell a horse with this name, you might want to change it. "For Sale, Gaits of Hell," just doesn't make a very appealing advertisement.
---
Insane Bolt - This name, of course, plays off the name of Usain Bolt, the internationally known track star from Jamaica famous for his incredibly fast running speed.
For a horse, the name Insane Bolt can be played two ways: It can either flatter a horse, or hint at a dangerous vice. For example, for a barrel horse with amazingly fast bursts of speed this name would be flattering. However, for a horse with the dangerous vice of bolting (running fast without responding to the rider) this name is as good as a warning label.
---
Macaroni - This funny horse name has a Presidential history. In the early 1960s when John F. Kennedy was President of the United States, his young daughter, Caroline, was given a pony by Vice President Lyndon B. Johnson.
The pony's name was Macaroni, and the roan pony became quite a celebrity. Caroline seemed to genuinely love her shaggy-maned pal, and White House photographers seemed to love photographing the two around the White House and on the White House lawns.
Below: From left to right: President John F. Kennedy, his son John F. Kennedy Jr., and his daughter Caroline. In back, of course, is the famous pony Macaroni.
---
Nacho - As in "notch yo horse." A friend of ours named a nice sorrel gelding Nacho because everyone in the family liked him. If someone had dibs on Nacho for the day, they would tell the other family members "Hands off! Nacho horse today!"
---
Nosupeforyou (As in, "No Supe [sic] For You") - Nosupeforyou was a 1998 Thoroughbred racehorse. Whoever named him seemed to be a fan of the long-running television show "Seinfeld" (1989 - 1998). In one episode the show featured an easily-annoyed character called "The Soup Nazi" who was an arrogant soup chef. He would often get angry with his customers, yank their bowl of soup away from them, and exclaim "No soup for you!"
The Soup Nazi appeared in only one episode of "Seinfeld," plus a brief cameo in the series finale. The character has been an enduring favorite, and the catchphrase "No Soup For You" lived on, for awhile at least, on the racetrack.
---
From eBay
From eBay. Names continue below.
---
Notacatbutallama – (As in, "Not A Cat But A Llama"). Notacatbutallama is a 2010 bay Thoroughbred gelding.
The story goes that Notacatbutallama got his name when his owner, Mike Repole, was playing a game with his wife Maria. Hoping to get her to say the word "dog," Mr. Repole said to Marie: "Not a cat but a......" to which she enthusiastically replied "Llama!" It seems they had a good laugh over the whole thing and kept it in mind when they needed a name for a horse.
Notacatbutallama, by the way, raced into his 6-year old year. When he was retired his owner gave him to a friend who had long been in love with the horse, and who began training him as a hunter/jumper.
---
Tumbling Mustard - When it comes to funny - or strange - horse names, this is one of the best. Tumbling Mustard (1924–1947) was a famous rodeo bronc. However, during his career he was renamed to another funny or unlikely name: 5 Minutes To Midnight.
For more information about Tumbling Mustard, you can see this page: Who Was 5 Minutes To Midnight?
---
Twinkle Toes - This was a well-known movie stunt horse owned by legendary Hollywood stuntman Charles "Chuck" (aka "Good Chuck") Hayward (1920 - 1998). While Mr. Hayward was an accomplished and respected stuntman in a lot of areas, he's best known for his stunts in a long string of Western movies. He doubled for many famous actors in his time, including John Wayne.
According to at least a couple of sources (the book "Motion Pictures From the Fabulous 1960's" by Terry Rowan, and an interview with singer/actor Glen Campbell in 2001), John Wayne and Twinkle Toes have a brief but spectacular (in our opinion) history together. According to those sources, at the end of the last scene of the 1969 movie "True Grit" starring John Wayne, it is Mr. Wayne himself, not a stunt man, riding Twinkle Toes and jumping over the four-rail fence.
---
Weebiscuit - A funny take-off of the name Seabiscuit, the famous American Thoroughbred racehorse (1933 – 1947). While the beginning of Seabiscuit's racing career wasn't noteworthy, he developed into a horse recognized for his blazing speed and a long list of wins in highly competitive races. He became a huge fan favorite, loved for his less-than-perfect early history as a racehorse and the gutsy determination that led to so many wins.
By the way, Seabiscuit wasn't a tall horse by racing Thoroughbred standards (around 15 hands, depending on the source), so in his own way, he was a bit of a Weebiscuit himself.
Did you know there was a movie based on Seabiscuit's life?
---
Wookalar - The 1980 movie "The Private Eyes" starred Tim Conway and Don Knotts as a pair of bumbling private detectives. Briefly, at the end of the movie, they discuss the supposed existence of a mythical monster called a "wookalar." Viewers even get a brief glimpse of the monster in the closing seconds of the film.
Here at CowboyWay when we heard the word "wookalar" we knew it was the perfect name for those mythical, magical, monsters our horses sometimes see and spook from, but that we never see ourselves. It can also be a fun name for a horse or pony because it has a slightly silly sound to it, but it can also elude to a horse's slightly paranoid or "watchy" nature.
---
Before We Go, A Few More Funny Horse Names
In closing, here are a few more funny horse names we overheard at a cutting horse futurity.
Quack N Me Up - We're probably spelling this wrong.
Peek If You Have To
Wetsy - Okay, this name's not that funny until you know she's owned by a lady named Betsy. Which still might not be that funny unless you've heard of the famous doll named Betsy Wetsy.
Memories Of Cash - We don't know the people that own this horse, but we're guessing they've owned horses long enough to know how much money you can spend on them.
You might also like:
Horse Names, All (you are here)