Cheyenne Frontier Days Bull Riding Photos
Wednesday, July 27, 2011 - The Cheyenne Frontier Days Rodeo -
Bull Riding Photos
The bull riding photos below are not in order. The Cheyenne Frontier Days Rodeo had three sessions of bull riding the day we were there. The photos below could be from any session, and are in no particular order.
Whenever we are able to identify a contestant, their name will be given.
Bull Riding Photos
More Cheyenne Frontier Days Rodeo Photos
All photos are copyrighted © and property of CowboyWay.com
We took this photo in the morning, before the rodeo started, while we were walking around Frontier Park.
Turns out they didn't bring him just because he was beautiful.
Bryan Richardson, Dallas, TX on #510. 510 bucked......
......very......
......well.
---
From eBay
From eBay. Photos continue below.
---
There were often close-ups of the contestants on several big screens around the arena.
Advertisement - Photos continue below.
Chris Roundy Panguitch, UT on Delta Dawn.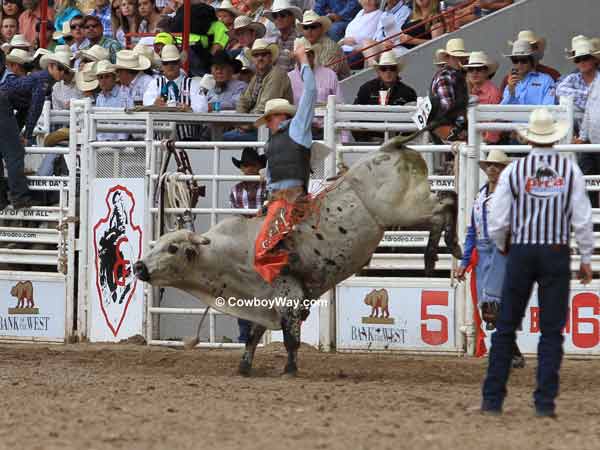 Ryan Shanklin, Rocksprings, TX and #397.
This bull rider had a difficult time getting out on his bull.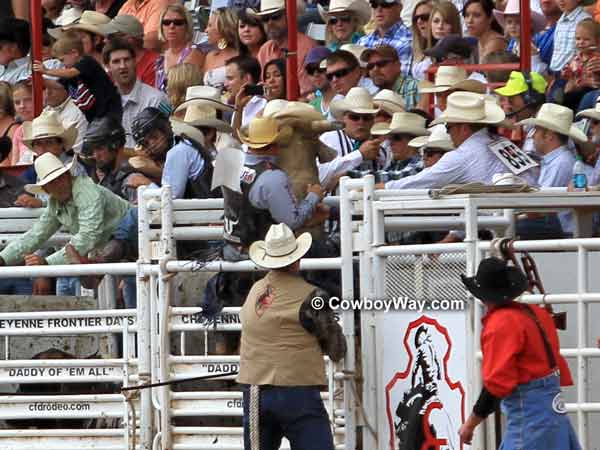 Bull fighters and officials wait for the next bull out of the chute.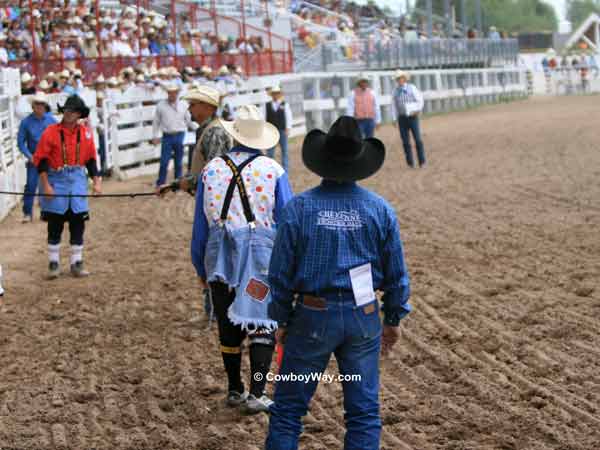 The crowd in East Stand, behind the bucking chutes.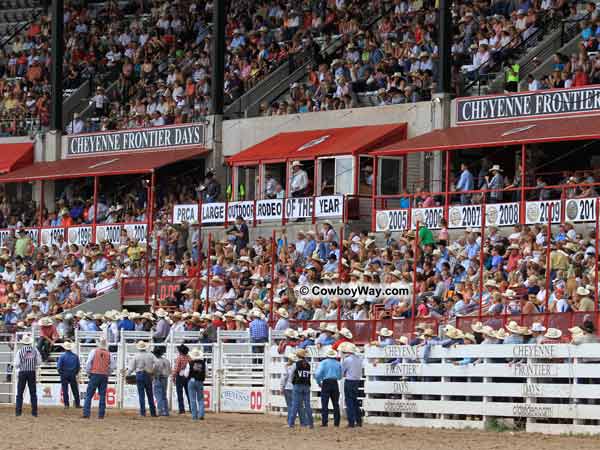 Aaron Pass on #703.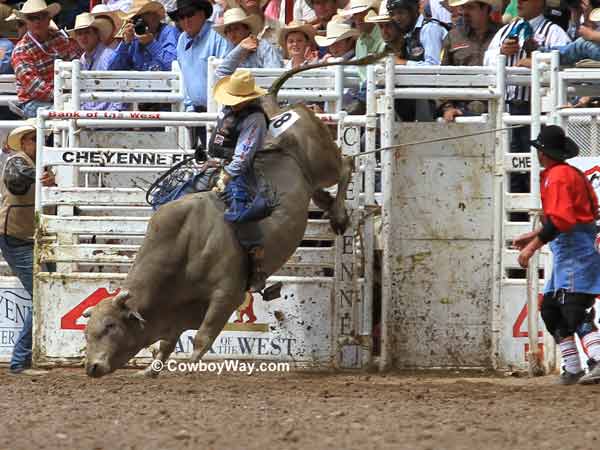 The crowd in B Stand, which is directly across the arena from the bucking chutes.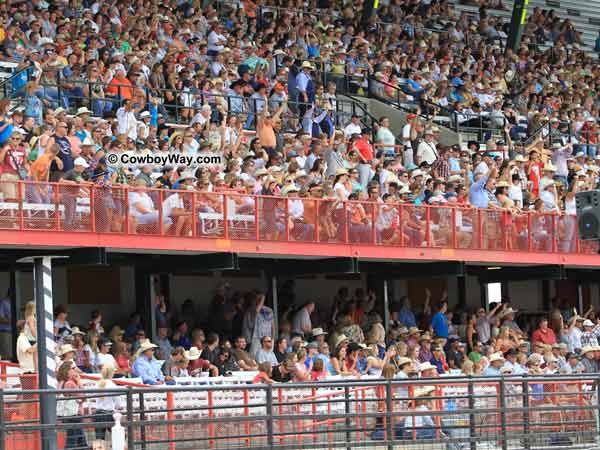 A bull rider gets bucked off.
A pretty horned bull......
......bucks his rider off......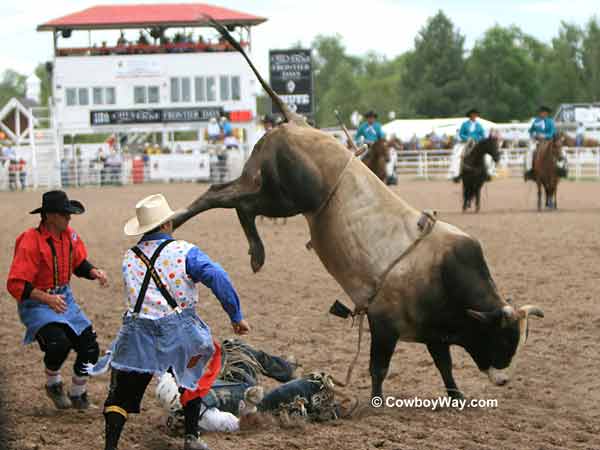 ......hard. Notice the bull fighters keeping an eye on the bull in the arena.
Bull fighters step in to protect a bull rider.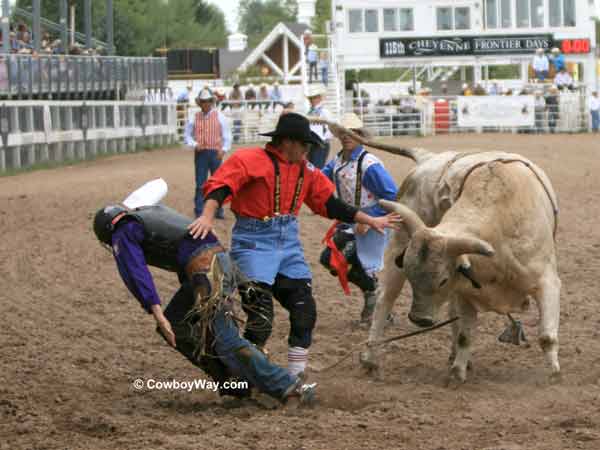 We liked this bull. When the ride was over he was more or less facing directly at the return (out) gate. Before he left, though, he initiated a brief stand-off with anyone who thought they might want to hurry him.
A brindle bucking bull......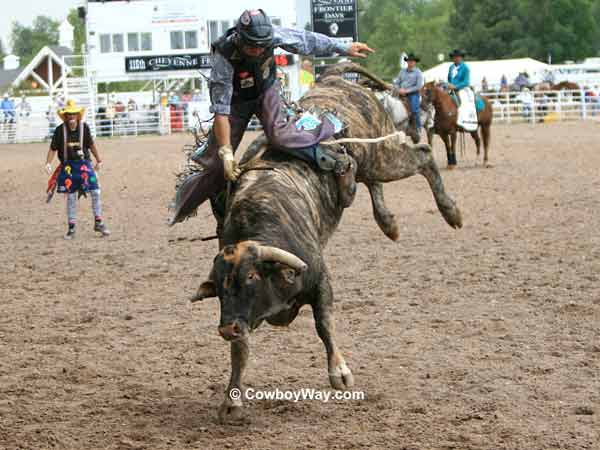 ......bucks off his rider.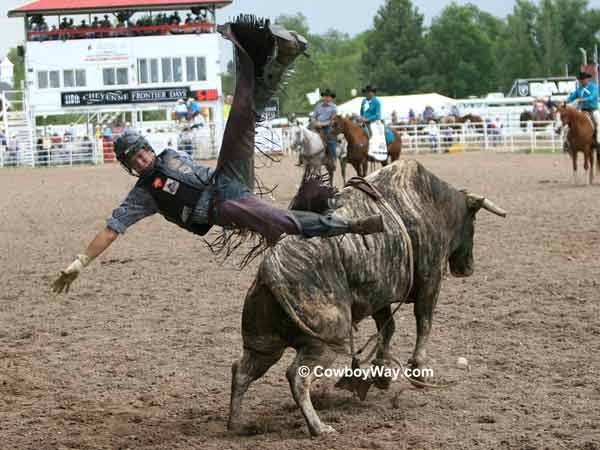 A bull rider works hard to make a ride.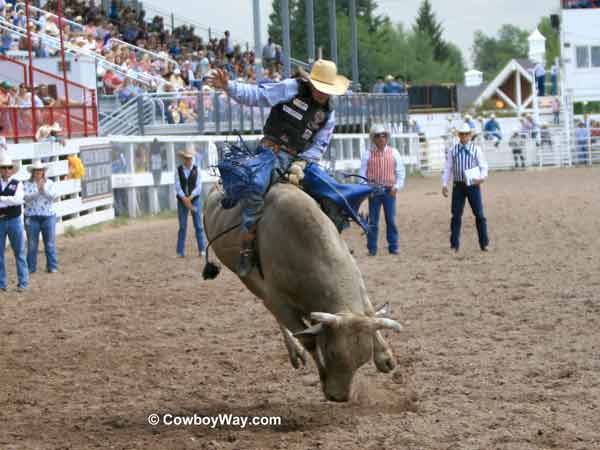 A bull rider on a speckled bull.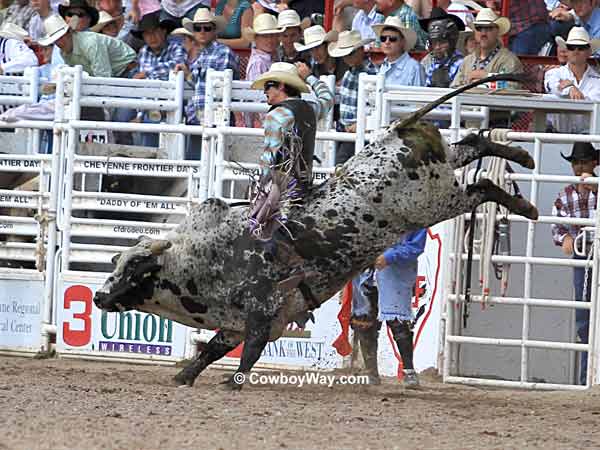 Another shot of the same speckled bull and his rider.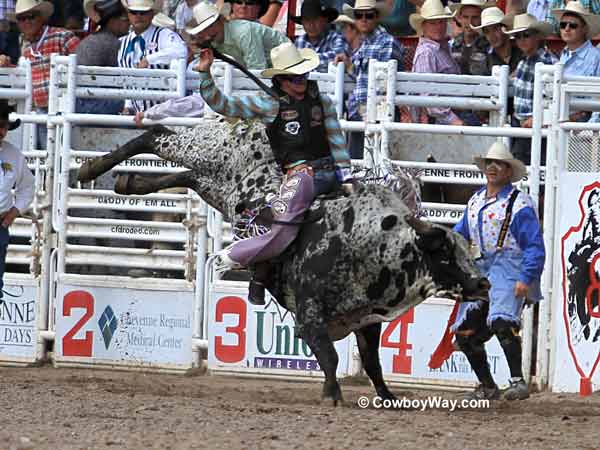 There's not much that's prettier than a bull or bronc with an attitude. After bucking, this bull loped to the south end of the arena, down by the timed event chutes (called Chute 9 at Cheyenne).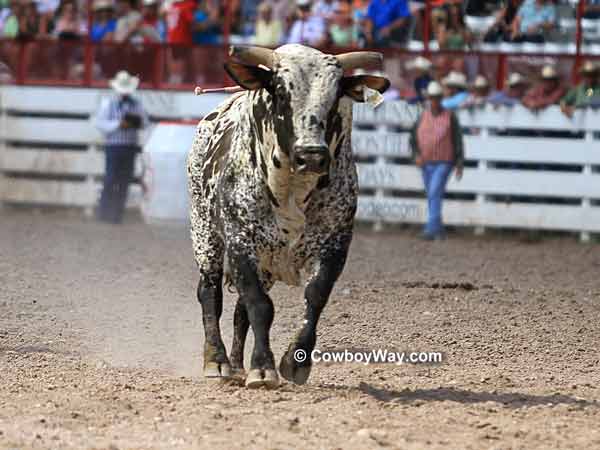 All photos are copyrighted © and property of CowboyWay.com
According to our copy of ...Out of the Chutes, a type of program specific for the events that day, here's some stuff you might like to know:
Rough stock judges: Mike Todd, Cliff Overstreet, Larry Peabody, and Matt Stanley
Bull fighters: Darrell Diefenbach and Mike Matt
Barrelman: J.W. Winklepleck
Pickup men: Billy Ward, Dalton Ward, Shawn Twitchell, Josh Edwards, Duane Gilbert, and Matt Johnson
Livestock contractors: Harry Vold Rodeo Company (primary).