Bull Riding Wrecks - Page 3 of 4
Bull riding is an unpredictable, dangerous sport where either a high-scoring ride or one that only lasts in a second can end in a wreck.
Even if a rider doesn't get bucked off before the eight seconds needed to make a qualifying ride, riding a bull is still a lot like holding a tiger by the tail: At some point you have to let go. Below are bull riding wreck pictures.
All photos are copyrighted © and property of CowboyWay.com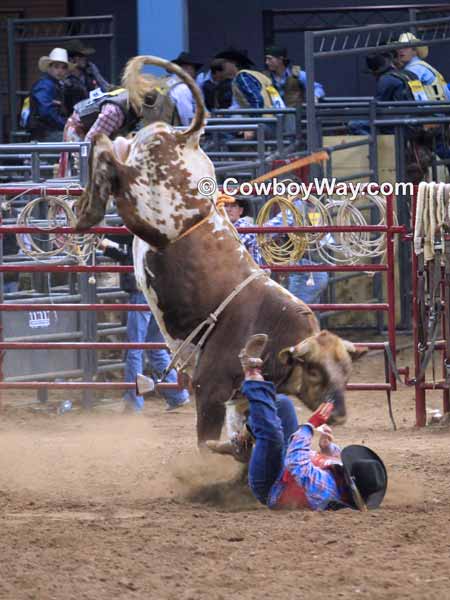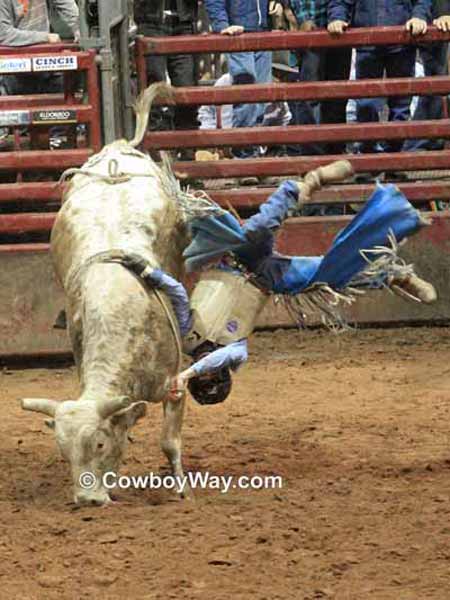 ---
Advertisement - Photos continue below.
---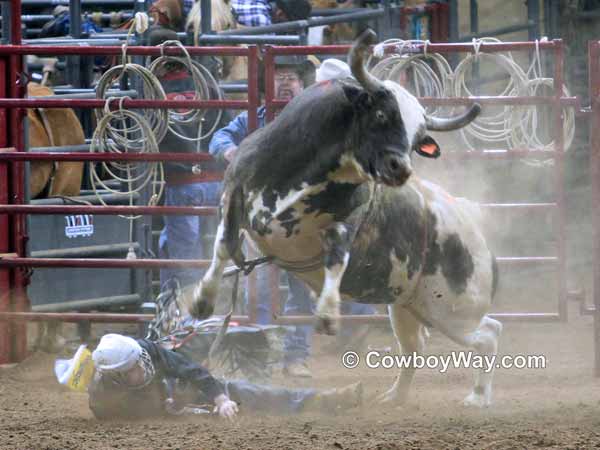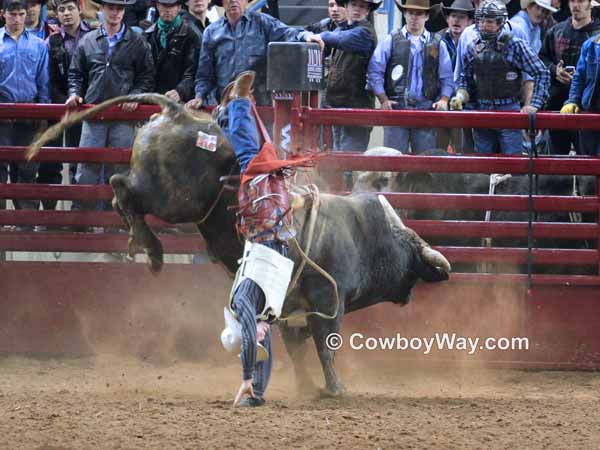 All photos are copyrighted © and property of CowboyWay.com
---
Bull Riding Wrecks and the Justin Sportsmedicine Team
Bull riders, like other rodeo cowboys and cowgirls, know that they are competing in a sport where injuries are inevitable. In rodeo, it's an accepted fact that it's not a matter of if a cowboy or cowgirl gets hurt, but of when and how bad.
While injuries are a serious issue for any professional athlete, in rodeo they can be particularly painful for a contestant financially. In rodeo, things like health care, health insurance, and a contract that keeps a paycheck coming isn't provided to an athlete the way it is in many other professional sports.
Health expenses for injuries incurred by a professional rodeo athlete are paid for out of their own pocket, and/or out of health insurance they purchase for themselves. In addition, a rodeo athlete's paychecks stop coming until they have recovered enough from their injuries to pay another entry fee and attempt to place "in the money" at the next rodeo.
In the early 1980s sports physician J. Pat Evans, physical therapist Don Andrews, and Justin Brands, the parent company of Justin Boots, Inc., joined forces to provide medical care for rodeo athletes that was unprecedented until that time. Together, the two determined men and the boot company that wanted to give something back to its cowboy and cowgirl customers formed what is now known as the Justin Sportsmedicine Team.
The Justin Sportsmedicine Team, also known as the Justin Heelers, is not intended to provide major health coverage or life-threatening emergency services. Their goal is to provide rodeo contestants with the treatment and knowledge they need to manage their sports-related injuries and to continue to compete when possible. All free of charge.
The Justin Sportsmedicine Team team travels to provide treatment of injuries on-site at rodeos throughout the country. They can either set up in a room inside of a sports facility, or work out of one of their Justin Mobile Sportsmedicine Centers, 40-foot long aluminum gooseneck trailers that are fully equipped and self-contained medical centers. The team is staffed by physicians, orthopedists, physical therapists, trauma specialists, and other skilled professionals in order to provide comprehensive care to injured rodeo athletes.
While the Justin Sportsmedicine Team cannot be present at every rodeo in the country, they work hard to attend as many rodeos as they can. They have provided excellent injury treatment and management, free of charge, to tens-of-thousands of rodeo athletes since the early 1980s.
From 1981 through 2007 the Justin Sportsmedicine Team has:
Covered more than 1,475,000 miles with their mobile medical centers
Treated over 112,000 athletes
Has provided over $23,000,000 in free medical services
Has attended over 11,200 rodeo performances
Justin Sportsmedicine Team statistics show bull riding wrecks and injuries account for most contestant injuries. Bull fighters and clowns top the list of injuries to non-contestants.
The next time you attend a professional rodeo or a Professional Bull Riders (PBR) event and the Justin Sportsmedicine Team happens to be there, take your hat off to the men and women that take such good care of our rodeo athletes. For more information on the Justin Sportsmedicine team, we suggest you visit the Mobile Sports Medicine Systems, Inc. website.