Horse Leggings
Below are horse leggings for sale on Zazzle, Amazon, and eBay. By "leggings" we mean the type of clothing, typically worn by women, that hug the legs from the waist to the bottom of the leggings. And by "horse" leggings we mean leggings with horse designs on them. In the horse world other items are sometimes called leggings, too (or leggins'), like chaps, chinks, or half chaps. Some folks even refer to the protective boots worn by horses as "horse leggings," but we think those folks might be a tad confused...... For the difference between leggings and tights, please scroll down beneath the leggings for sale.
Below: Horse leggings with a white horse and flowing mane. From Zazzle.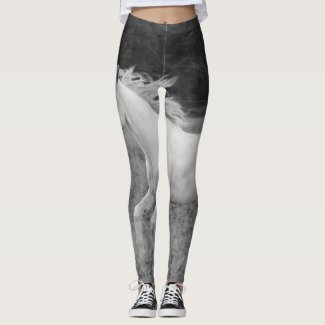 Running Horse Leggings
by
TElbertImages
---
From Zazzle
The leggings at Zazzle typically get excellent reviews. After clicking a link below and looking at a pair of leggings on the Zazzle website, be sure to look under the main product preview for the reviews.
See more horse leggings on Zazzle
---
From Amazon
See more horse leggings on Amazon
---
From eBay
---
Leggings vs. Tights: What's The Difference?
Leggings and tights can be similar, and not everyone agrees on exactly what makes the distinction between the two. Below are a few generally accepted ways to tell the difference between leggings and tights, although everyone might not agree.
Leggings begin at the waist and stop somewhere between the knee and the ankle. (Most styles go all the way to the ankle, but some do end higher.) Tights begin at the waist and continue all the way down and typically go over the foot, like pantyhose. There are, however, footless tights.
Leggings are denser than tights, and are opaque (not transparent), even when stretched. Tights, on the other hand, are less dense and more sheer, sometimes even being slightly transparent.
Leggings usually have a visible seem. Tights do not.
Leggings and tights both hug the legs, but when things like size and fit are equal leggings are not quite as form-fitting as tights. With leggings, minor draping of the fabric might be visible.
Leggings are usually considered a more casual look than tights.
---
What Is Zazzle?
Zazzle is a company that offers a way for artists, photographers, and designers to showcase their unique and beautiful creations on a wide variety of items.
Zazzle itself takes care of receiving and processing all orders, and customer support.
Zazzle is known for their lightning-fast order processing and shipment.
Many of the items on Zazzle can be personalized by the customer! Just look for personalization / customization options when you place your order.
Zazzle has a friendly return policy, even for customized orders. You can see their return policy here. Want to know what others think? You can see Zazzle testimonials here.
---
From Zazzle: You Might Also Like...
Auto / Truck
Banners
Business Cards
Clothing / Apparel
Dry Erase Boards
Home
Miscellaneous
Office
Wedding
Link To This Page
If you found this page useful or interesting and would like to link to it from your own website or blog, you can use the small code snippet below to make a link. Thanks!
Use ctrl+C in Windows or command+C on a Mac to copy the link.
<a href=""></a>
---
Below: Like and share this page on Facebook!