Saddle Horn Wrap
Wrapping a saddle horn with rubber protects the saddle horn, and helps the roper control their dally by how much they they do, or don't, allow the rope to slide.
For a description of the different types of horn wrap please scroll down beneath the items wrap for sale.
---
From eBay and Etsy
See more saddle horn wrap on eBay
---
About Saddle Horn Wrap
The materials used to wrap a saddle horn fall into two broad categories: 1) rubber, which includes synthetic rubber, 2) and "slick horn" materials.
Rubber and synthetic rubber provide a strong "grab" on a rope. "Grab" means that the rope will slide very little while dallied. Competitive ropers such as team ropers often use rubber or synthetic rubber. It is also a popular choice for ranch use.
Slick horn materials (which include elk hide, mule hide, latigo, and others) allow the the dally to slide more easily. Slick horn materials are popular for ranch use and competitive ranch roping.
A brief description of some common rubber and slick horn materials follows. If you'd like more information, we suggest you simply ask a roper their opinion.
Rubber and Synthetic Rubber

Rubber - An inner tube that the roper has cut into strips themselves is a common source of rubber for wrapping saddle horns. A new inner tube is the best choice since the rubber in a used one may be somewhat damaged or degraded. Rubber has a lot of grab on a rope.
Synthetic Rubber - Synthetic rubber is purchased pre-cut into strips and ready to wrap a horn. It comes in different colors with white being especially popular, partly because it does not rub off and stain ropes. Some makers of synthetic rubber horn wrap claim it is easier on ropes than real rubber. Like real rubber, synthetic rubber has a lot of grab.
Below: Rubber horn wrap.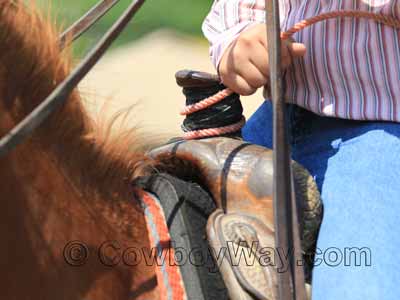 Slick Horn Materials

Elk Hide - Fans of elk hide usually say it has less grab than rubber or synthetic rubber, but more grab than mulehide or latigo.
Mulehide (or Mule Hide) - Despite the name, mulehide is made from cowhide, not mules. It is usually considered to have less grab than elk hide, but more grab than latigo.
Latigo - Latigo is a type of leather made from cowhide. It is generally considered to be slicker (have less grab) than either elk hide or mule hide. Those who use latigo as a horn wrap sometimes say it seems to outlast elk hide and mulehide, but this can be disputed among ropers.
Below: Mulehide horn wrap.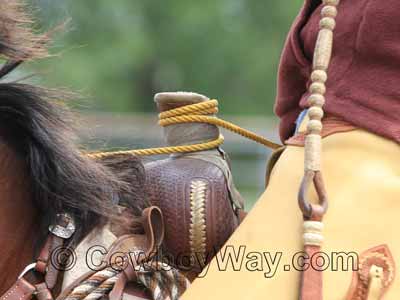 ---
How To Wrap A Saddle Horn With Rubber
You might like our how-to article: How To Wrap A Saddle Horn With Rubber.