Suede Chaps For Sale
Below are suede chaps for sale on Amazon and eBay. There is typically a selection of suede chaps in different weights and colors. Suede chaps are usually used for showing horses instead of as a work chap. Please scroll down for the difference between suede chaps and ultrasuede chaps.
Below: A pair of light turquoise-colored suede chaps.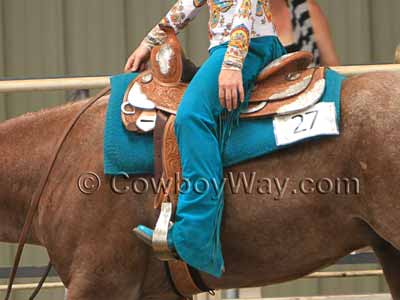 ---
From Amazon
See more suede chaps on Amazon
---
---
Suede Chaps Savvy
Suede is leather that has had the surface specially manufactured to create a nap instead of a smooth finish. Suede chaps are usually used for showing instead of being used has a working chap because suede does not stand up to dirt, manure, etc. as well as regular leather. Suede chaps are usually very attractive and soft and frequently have long, beautiful fringe.
Ultrasuede (sometimes also spelled ultra suede, ultra-suede, etc.) is not made of leather. Instead, it is a man-made, non-woven material made of micro fibers. Most items made from Ultrasuede can be machine washed or dry cleaned. However, you should always follow the manufacture's directions for cleaning and also realize that some items found on Ultrasuede chaps such as buckles, conchos, or even the fringe may mean the chaps cannot be machine washed.
---
Link To This Page
If you found this page useful or interesting and would like to link to it from your own website or blog, you can use the small code snippet below to make a link. Thanks!
Use ctrl+C in Windows or command+C on a Mac to copy the link.
<a href=""></a>
---
Below: Like and share this page on Facebook!