Children's Chaps
Below are children's chaps for sale. You can usually find Western chaps, half chaps, show chaps, working chaps, rodeo chaps, and chaps for mutton bustin.
---
---
Since chaps for kids are not always made of leather (synthetic materials are often used) you should read the item's description carefully to find out what the chaps are made of.
You can often find a good deal on used kids' chaps on eBay since children usually outgrow their chaps quickly. On used chaps for children, read the item description carefully for any flaws.
Below: A young mutton buster wears children's chaps as he retrieves his hat. He's wearing black synthetic batwing chaps with bright blue accents and long fringe.
---
From eBay
See more children's chaps on eBay
---
A Little Bit About Children's Chaps
Like chaps for adults, children's chaps come in two main types: Batwing and shotgun. There is also a type called "chinks."
Batwing chaps run the full length of the leg, but are closed around the back only above the knee. The amount of chap below the knee is generously cut, similar to a bat's wing (if you use your imagination...). The mutton buster at the top of this page is wearing batwing chaps.
Shotgun chaps also run the full length of the leg, like batwings. However, shotgun chaps are straighter cut than batwings, and typically close around the leg from top to bottom.
Below: A child wearing shotgun chaps.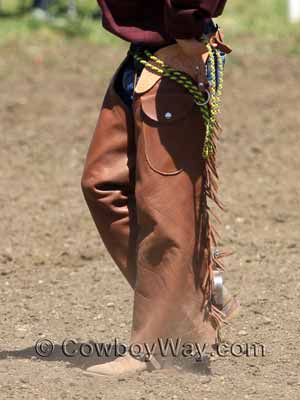 Chinks are similar to chaps, but are shorter. While the length of chinks varies, they typically hit the wearer below the knee but above the ankle. Like batwing chaps, chinks are closed around the leg above the knee.

Below: Chinks (shown here on an adult). Chinks are a popular choice for children.
Children's chaps and chinks are sometimes made in synthetic materials to help lower their cost. They are also sometimes made to be lighter in weight than adults chaps.
However, some children's chaps are made of high-quality leather, and come in similar weights, or leather thicknesses, as adult chaps.
---
---