Cheyenne Frontier Days Team Roping Photos
Wednesday, July 27, 2011 - The Cheyenne Frontier Days Rodeo -
Team Roping Photos
The team roping photos below are not necessarily in order.
Whenever we are able to identify a contestant, their name will be given.
Team Roping Photos
More Cheyenne Frontier Days Rodeo Photos
All photos are copyrighted © and property of CowboyWay.com
Joel Bach, Millsap, TX heads one for heeler Allen Bach (shown below), Weatherford, TX.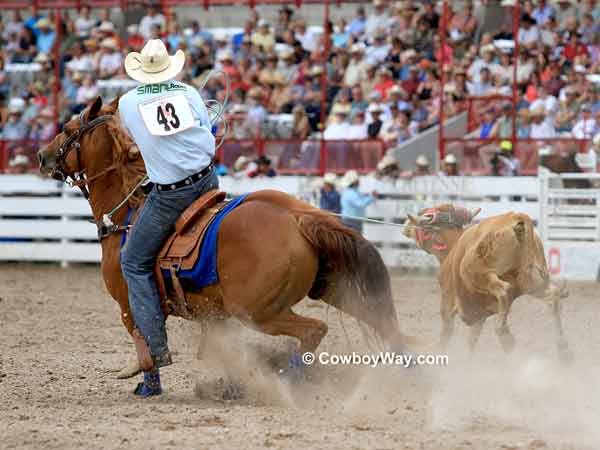 Heeler Allen Bach and header Joel Bach.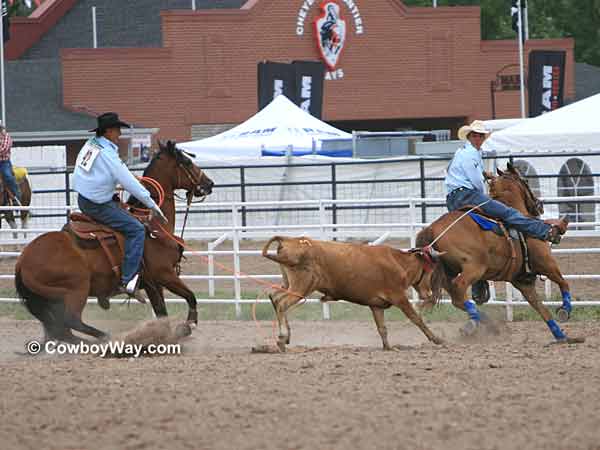 Lance Brooks, Bitter Water, CA heads a steer for heeler Ryan Motes (shown below), Weatherford, TX.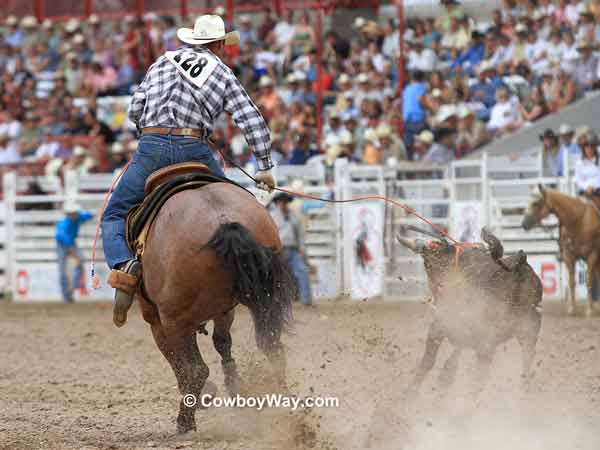 Ryan Motes catches the heels.
Trevor Brazile, Decatur, TX got his rope underneath his horse's tail.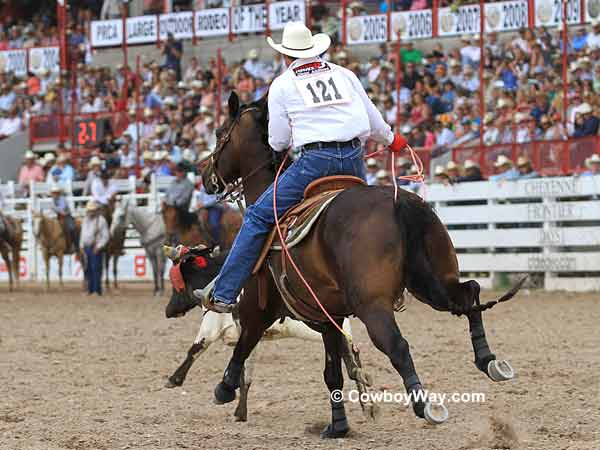 He quickly got the rope out from under the tail, but the run ended in a no-time for him and partner Patrick Smith (not shown), Midland, TX.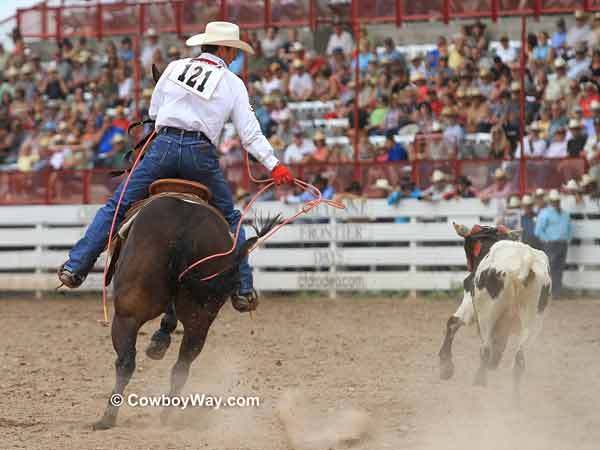 Clay Tryan, Billings, MT, header / Travis Graves, Jay, OK, heeler.
Ty Blasingame, Ramah, CO, makes a head catch for heeler Cody Hintz (not shown), Spring Creek, NV.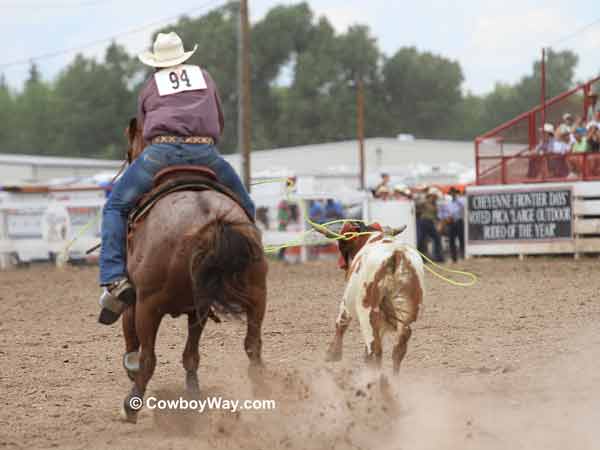 Nick Rawlings, Stephenville, TX closes in on his steer. Partner Dakota Kirchenschlager is shown below.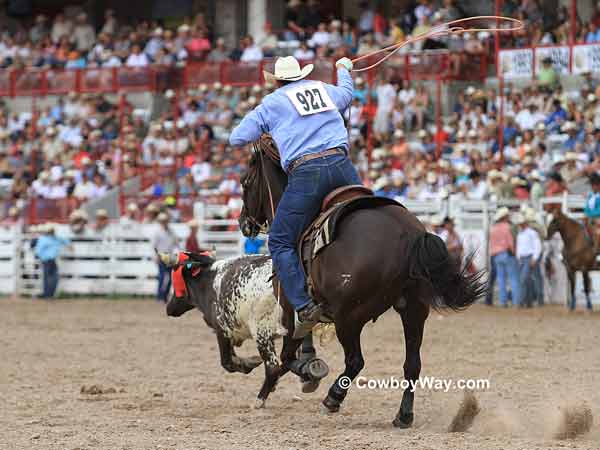 Dakota Kirchenschlager, De Leon, TX, makes heeling look easy.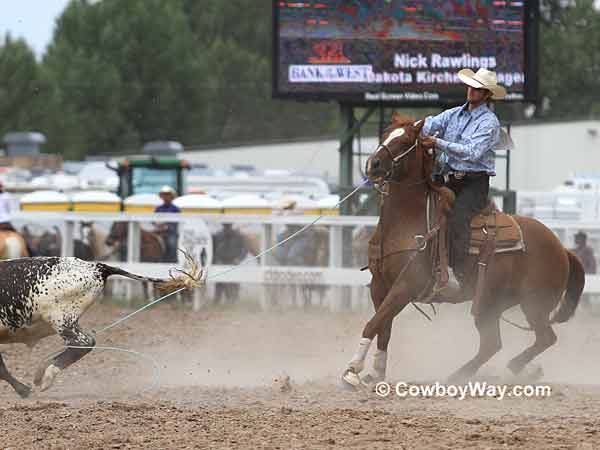 Mitchell Spencer, Colusa, CA. The heeler was Broc Cresta (not shown), Santa Rosa, CA.
All photos are copyrighted © and property of CowboyWay.com
According to our copy of ...Out of the Chutes, a type of program specific for the events that day, here's some stuff you might like to know:
Timed event judges: Paul Hughes and Chuck Hoss
Livestock contractor, roping steers: Rocky Garnett
---
Photo Pages
Photos of a specific topic (for example, bareback bronc riding) that are likely to have been taken on different days and/or at different event venues.
Photo Of The Day
Bareback
Bareback - Black and White
Bronc Riding - Wrecks
Bull Riding
Bull Riding - Black and White
Bull Riding - Wrecks
Cheyenne Frontier Days
Circle Of Fear
Cows
Cowboy Mounted Shooting
Cowboy
Cowgirl
Cows and Flies
Draft Horses
Horses
Paint Horses
Ranch Bronc Riding
Ranch Cutting Horse
Ranch Rodeo - Junior
Ranch Rodeo
Saddle Bronc
Trick Riding
Wild Cow Milking
Wild Horse Race
Wild Mustangs
Event Photos
These are photos taken at one single event venue (for example - a particular rodeo on a certain day).
Link To This Page
If you found this page useful or interesting and would like to link to it from your own website or blog, you can use the small code snippet below to make a link. Thanks!
Use ctrl+C in Windows or command+C on a Mac to copy the link.
<a href=""></a>
---
Below: Like and share this page on Facebook!