Wild Mustang Horse Photos - Page 1 of 2
Here at CowboyWay.com we were fortunate enough to go on a mustang photo excursion. With a great guide and a fellow photographer, both of whom happened to be good friends, we spent a day from before sun up until late afternoon photographing wild mustangs. It was a day we won't forget.
All photos are copyrighted © and property of CowboyWay.com
We were in the first pasture ready to take photos before the sun came up. As the first light of day arrived the mustangs began to come from all directions to the sound of the feed truck.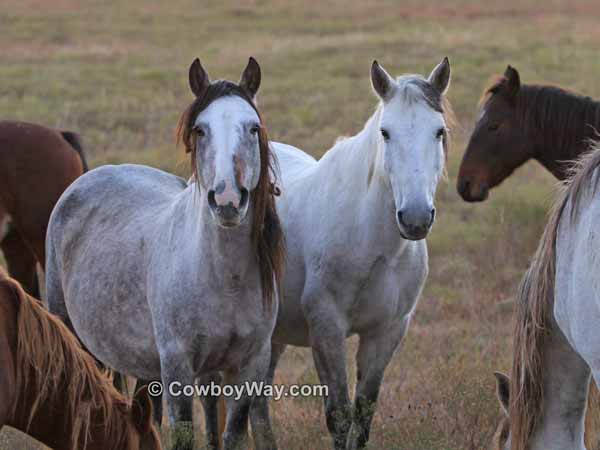 As the first rays of sun became stronger, but still had a soft golden glow, this beautiful buckskin mare came into view.
This mare was very curious, and seemed to enjoy hanging around us and the truck. Here, she demonstrates the flehmen posture. If you aren't familiar with the "flehmen posture," check it out on our "What Are... Some Horse Facts" page.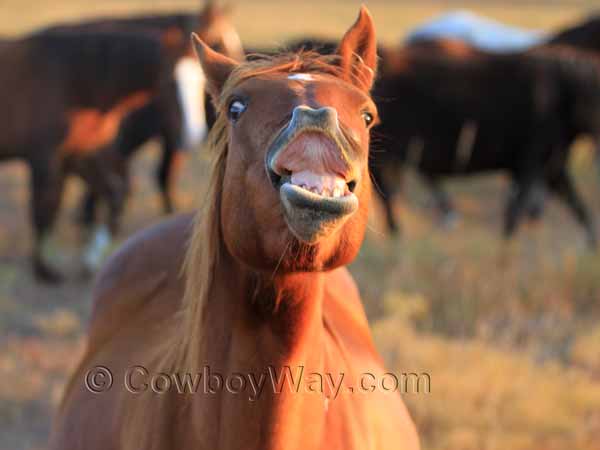 Before long we were surrounded by horses, and they were still coming.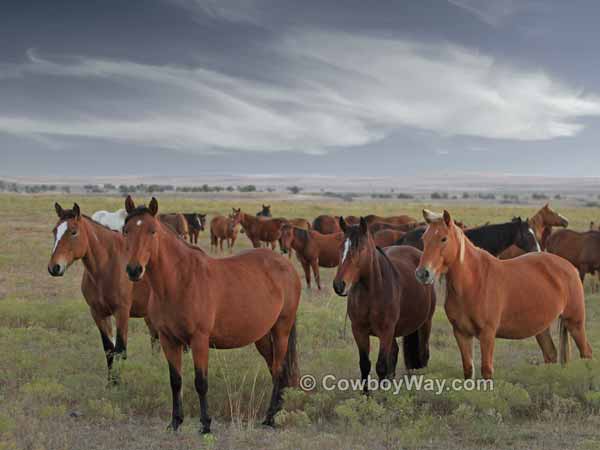 A beautiful sorrel and white mare.
This gray mare was very aloof and suspicious.
There were lots of cockleburrs in manes and tails; horses love to scratch themselves with cockleburrs. This mare evidently loves them more than most.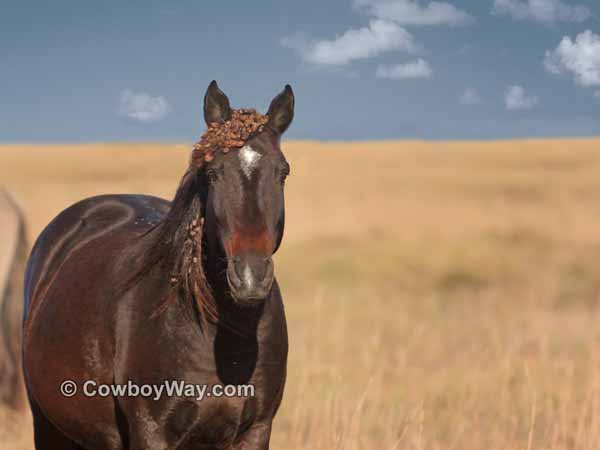 If you're going to prowl thousands of acres looking for mustangs, a 6X6 is a sweet ride. A little bumpy, but still a sweet ride.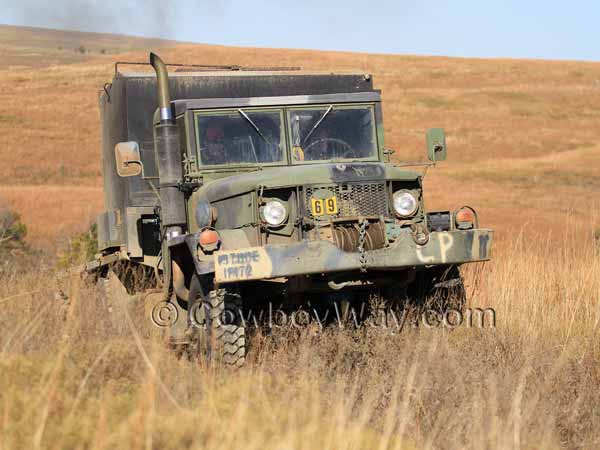 All photos are copyrighted © and property of CowboyWay.com
---
Photo Pages
Photos of a specific topic (for example, bareback bronc riding) that are likely to have been taken on different days and/or at different event venues.
Photo Of The Day
Bareback
Bareback - Black and White
Bronc Riding - Wrecks
Bull Riding
Bull Riding - Black and White
Bull Riding - Wrecks
Cheyenne Frontier Days
Circle Of Fear
Cows
Cowboy Mounted Shooting
Cowboy
Cowgirl
Cows and Flies
Draft Horses
Horses
Paint Horses
Ranch Bronc Riding
Ranch Cutting Horse
Ranch Rodeo - Junior
Ranch Rodeo
Saddle Bronc
Trick Riding
Wild Cow Milking
Wild Horse Race
Wild Mustangs
Event Photos
These are photos taken at one single event venue (for example - a particular rodeo on a certain day).
Link To This Page
If you found this page useful or interesting and would like to link to it from your own website or blog, you can use the small code snippet below to make a link. Thanks!
Use ctrl+C in Windows or command+C on a Mac to copy the link.
<a href=""></a>
---
Below: Like and share this page on Facebook!