Saddle Bronc Riding Pictures - Page 2 of 2
Below are saddle bronc riding pictures. Saddle bronc riding is known as the "classic event of rodeo." For more information on saddle bronc riding please see the bottom of this page.
Saddle Bronc Riding Pictures, Page 1 -- Saddle Bronc Riding Pictures, Page 2
All photos are copyrighted © and property of Cowboyway.com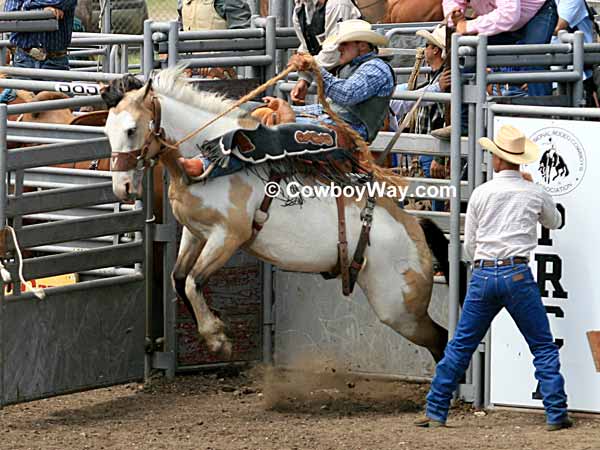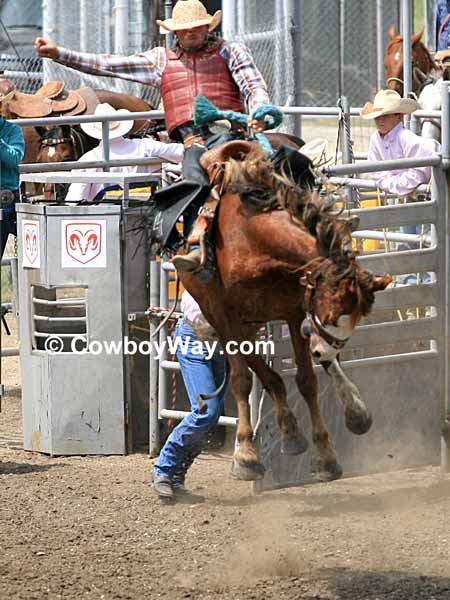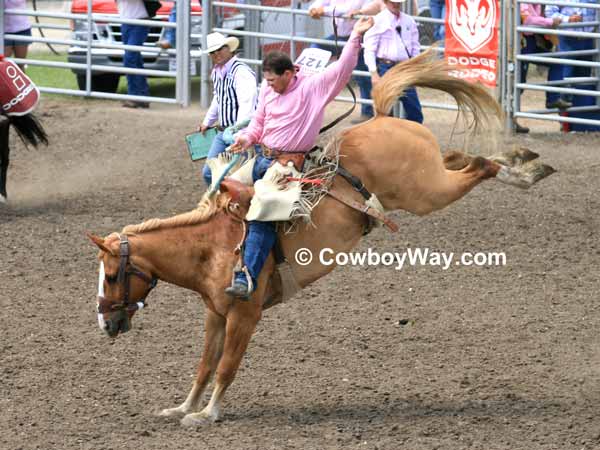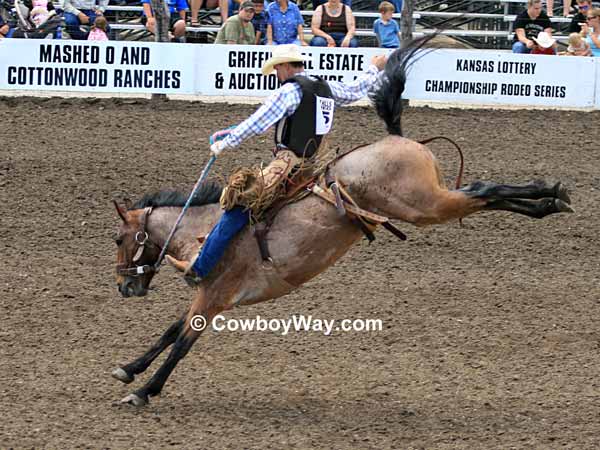 Saddle Bronc Riding Pictures, Page 1 -- Saddle Bronc Riding Pictures, Page 2
All photos are copyrighted © and property of Cowboyway.com
Saddle Bronc Riding And The Fake But Authentic Wild West Show
The earliest forms of rodeo were small, informal gatherings where working cowboys exhibited their skills and/or competed against one another in the tasks they performed during their everyday ranch duties. These early exhibitions and competitions dotted the American West in the mid 1800s, and while they were actually seen by very few people they were nonetheless very popular with those that did get to see them. These casual, early get-togethers soon spawned a more flamboyant, spectator-oriented event, an event that came to be called the Wild West Show. While there were several early forms of the Wild West Show a man famously known as Buffalo Bill Cody had one of the earliest, biggest, most extravagant, and longest running Wild West Shows in American history.
Although Buffalo Bill's Wild West Shows were lavishly costumed and spectacularly designed, he insisted on authenticity in the things that really counted. While the cowboys and cowgirls in his shows may have been far better dressed and equipped than their "real" or working counterparts, the skills they displayed to cheering crowds of thousands were genuine. Their high level of horsemanship and roping could not be faked, and neither could their exceptional abilities to ride bucking horses (an early form of modern saddle bronc riding), steers, and buffalo. In addition to these more traditional cowboy skills, Buffalo Bill's shows also contained reenactments of Indian attacks, stage robberies, and buffalo hunts. All the events were fast paced and highly dangerous whether measuring by the standards of those days or more modern times. No amount of flashy dress and fancy costuming could disguise the genuine skills that laid beneath them, a truism not at all different from modern rodeo.
Photo Gallery
The Photo Gallery is a collection of photos from various events.
Photo Pages
The Photo Pages are a collection of individual photos. Each page has fewer pages than a "Photo Gallery" page, and sometimes a description about the photos.
Bareback
Bareback - Black and White
Bronc Riding - Wrecks
Bull Riding
Bull Riding - Black and White
Bull Riding - Wrecks
Cows
Cowboy
Cowgirl
Draft Horses
Horses
Paint Horses
Ranch Bronc Riding
Ranch Rodeo - Junior
Ranch Rodeo
Saddle Bronc
Wild Cow Milking
Link To This Page
If you found this page useful or interesting and would like to link to it from your own website or blog, you can use the small code snippet below to make a link. Thanks!
Use ctrl+C in Windows or command+C on a Mac to copy the link.
<a href=""></a>
---
Below: Like and share this page on Facebook!