National Finals Rodeo Tickets
The National Finals Rodeo (NFR) is a grueling, 10 day long rodeo where the top-qualifying contestants in each of seven events compete for cash, prizes, and World Champion titles. Below are NFR tickets for sale on eBay and other locations. The National Finals Rodeo is held annually during the first part of December, and since 1985 has been held at the Thomas and Mack Center in Las Vegas, Nevada. Since 2001 the National Finals Rodeo (NFR) has been more correctly referred to as the Wrangler National Finals Rodeo (WNFR) when the Wrangler corporation became the rodeo's title sponsor. For information and trivia about the first NFR please scroll down beneath the tickets for sale.
You might also like Dallas Cowboys Tickets or Dallas Cowboys Season Tickets.
Below: A sign welcoming people to Las Vegas, Nevada, the home of the National Finals Rodeo since 1985.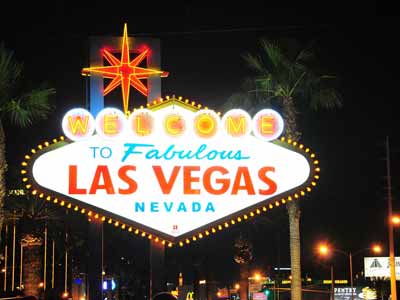 ---
From eBay
See more National Finals Rodeo tickets on eBay
---
Other Places To Find NFR Tickets
While eBay often has an excellent selection of National Finals Rodeo tickets you can also find them at other locations, including:
---
About The First National Finals Rodeo
The first National Finals Rodeo (NFR) was held in December, 1959 in the Livestock Coliseum on the fairgrounds of the State Fair of Texas in Dallas, TX. It was sanctioned by the Rodeo Cowboys Association (RCA), an organization formerly known as the Cowboys' Turtle Association and that would later be known as the Professional Rodeo Cowboys Association (PRCA).
The top 15 contestants (as determined by money earned at rodeos during the regular, 11 month rodeo season prior to NFR) in each of the 5 standard rodeo events were qualified to compete at the first NFR.
At that time, the 5 standard rodeo events were:
Bareback bronc riding
Calf roping (later known as tie-down roping)
Saddle bronc riding
Steer wresting
Bull riding
Prize Money At The First National Finals Rodeo
The 69 contestants at the first NFR (see below) competed for entry fee money plus $57,500 added by the State Fair of Texas.
Contestants At The First National Finals Rodeo
There were a total of 69 contestants from the United States and Canada competing at the first NFR. The number of contests from each state and Canada were:
United States
Arizona - 5
California - 5
Colorado - 2
Idaho - 5
Louisiana - 1
Montana - 2
Nebraska - 1
Nevada - 2
New Mexico - 6
North Dakota - 3
Oklahoma - 12
Oregon - 1
South Dakota - 1 (Casey Tibbs)
Texas - 14
Utah - 1
Washington - 2
Wisconsin - 1
Wyoming - 2
Canada
National Finals Rodeo World Champions - 1959
The World Champions at the 1959 National Finals Rodeo (as determined by the most money earned during the regular season plus winnings at the NFR) were:
Bareback Bronc Riding - Jack Buschbom, Wisconsin
Steer Wresting - Harry Charter, Idaho
Bull Riding - Jim Shoulders, Oklahoma
Calf Roping - Jim Bob Altizer, Texas
Saddle Bronc Riding - Casey Tibbs, South Dakota
The all-around championship (the most money earned in 2 or more events) was won by Jim Shoulders, Oklahoma.
---
National Finals Rodeo Locations
1959 through 1961 - Dallas, TX
1962 through 1964 - Los Angeles, CA
1965 through 1984 - Oklahoma City, OK
1985 through present - Las Vegas, NV
Below: 5-time World Champion steer wrester Luke Branquinho competes in the steer wresting during the third round of the 2004 National Finals Rodeo. He won World Champion titles in 2004, 2008, 2011, 2012, and 2014.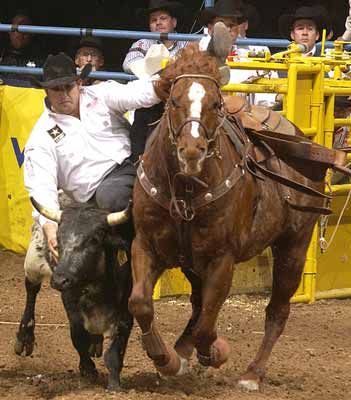 By Mike Copeman [Public domain], via Wikimedia Commons
Below: The Marine Corps Mounted Color Guard rehearsing for the 2012 National Finals Rodeo.
By Lance Cpl. Samuel Ranney (https://www.dvidshub.net/image/804312) [Public domain], via Wikimedia Commons
---
---
Link To This Page
If you found this page useful or interesting and would like to link to it from your own website or blog, you can use the small code snippet below to make a link. Thanks!
Use ctrl+C in Windows or command+C on a Mac to copy the link.
<a href=""></a>
---
Below: Like and share this page on Facebook!