Bull Riding Pictures, Black and White - Page 3 of 3
The photographs below are of Carpenter Rodeo Company livestock. Carpenter Rodeo was an open rodeo company that toured Kansas and Oklahoma for more than 40 years, retiring in 1999. If known, the names of the bulls, bull riders, and locations are given.
All photos are copyrighted © and property of CowboyWay.com
David Ropp and VO5
Hennessey, OK, 1978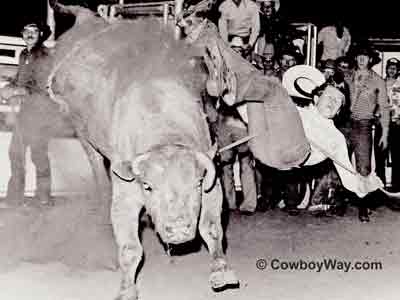 Chuck Payne and Blackout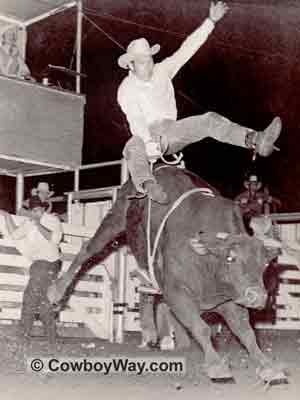 Buddy Allen and Yo Yo
Mulvane, KS 1971
Steve Eggarton on Gunsmoke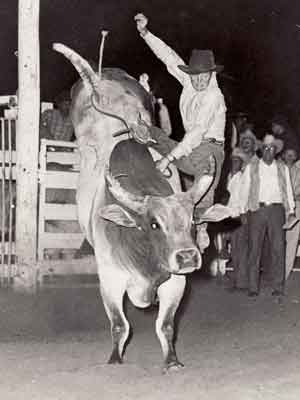 All photos are copyrighted © and property of CowboyWay.com
---
Bull Riding Photo Credits
The photos on this page were taken by long-time Carpenter Rodeo Company photographer Steve Vanselous.
As you've probably noticed most of the photos show the bull riders getting bucked off instead of making a ride. This is because, over the years, bull riders usually purchased the photos from Steve Vanselous that showed themselves making a good ride. The photos showing the bull rider in a less flattering position didn't sell as well. When Steve stopped taking rodeo photos in the mid-1980s he sold his remaining photo inventory to Bill Carpenter of Carpenter Rodeo Company, and the majority of the remaining photos were of bull riders getting bucked off. The photos on this page are from Bill's collection.
Photo Pages
Photos of a specific topic (for example, bareback bronc riding) that are likely to have been taken on different days and/or at different event venues.
Photo Of The Day
Bareback
Bareback - Black and White
Bronc Riding - Wrecks
Bull Riding
Bull Riding - Black and White
Bull Riding - Wrecks
Cheyenne Frontier Days
Circle Of Fear
Cows
Cowboy Mounted Shooting
Cowboy
Cowgirl
Cows and Flies
Draft Horses
Horses
Paint Horses
Ranch Bronc Riding
Ranch Cutting Horse
Ranch Rodeo - Junior
Ranch Rodeo
Saddle Bronc
Trick Riding
Wild Cow Milking
Wild Horse Race
Wild Mustangs
Event Photos
These are photos taken at one single event venue (for example - a particular rodeo on a certain day).
Link To This Page
If you found this page useful or interesting and would like to link to it from your own website or blog, you can use the small code snippet below to make a link. Thanks!
Use ctrl+C in Windows or command+C on a Mac to copy the link.
<a href=""></a>
---
Below: Like and share this page on Facebook!