Antler Knives For Sale
Antler knives in different types, styles, and sizes for sale. The types of knives vary greatly, with significant differences in length of blade, length of handle, style of knife, the type of antler (deer, elk, etc.), who made the knife, and more.
Some of the antler knives you will find are new, others are old. Some come with sheaths or display mounts, while others are just the knife by itself. Still others aren't knives at all: instead, they're a piece of antler so you can make your own knife. You must read the seller's description carefully to know the specifics on any antler knife you are interested in.
Below: An antler knife. The handle of this knife is made from whitetail deer antler. The handle is 4 inches long, and the blade is 3 and 3/4 inches long.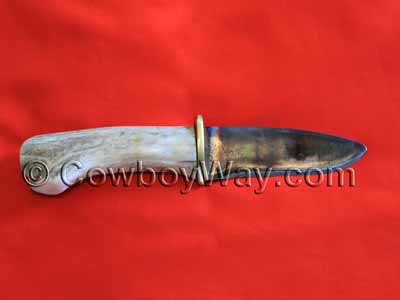 Below are antler knives for sale on eBay.com.
- Click on an individual item to see details, to purchase, or to see product details.
What Are Some Of The Differences Between Horns and Antlers?
Horns

are made of a bony core that is attached to, and is a permanent part of, the animals' skull.

Antlers

grow from the animals' skull, too, but instead of being permanent antlers are shed and re-grown, usually in an annual cycle.

Horns

are made of keratin (the same substance that is found in reptile scales, claws, hooves, and human hair and fingernails) that covers a bony core.

Antlers

are made entirely of bone.

Horns

are usually found in both the male and the female of the species, and they can be straight, curved, or even twisty. Most horns have only one point, and rarely branch out.

Antlers

are usually (though not always) found only in the male of the species, and typically branch out.
---
---
Link To This Page
If you found this page useful or interesting and would like to link to it from your own website or blog, you can use the small code snippet below to make a link. Thanks!
Use ctrl+C in Windows or command+C on a Mac to copy the link.
<a href=""></a>
---
Below: Like and share this page on Facebook!