A short story by Emma Carpenter.
A Good, Plain Brown Horse - Page 2 of 2
Suddenly, as I looked to the front again, I could just see over the edge of the hill and down the side.
---
---
At the very bottom, coming my way on her good, plain brown horse, I saw MaryAnn. As the rest of the riders had been taking the herd to the pens she had ridden over to look in the trees below a nearby pond dam. As she was coming back, driving several head she had found, she had seen the herd break. From the way she was riding I knew she had seen us a long time before we had seen her.
MaryAnn had found something like five or seven head behind the pond, I don't remember the exact number now. She was riding hard to hold them at the bottom of the hill that several hundred head were now pouring down. She was galloping back and forth behind her little bunch, trying to make enough of a wall in front of the leaders of the stampede that she could convince them to slow down. It was only a bluff, of course, but she was trying to hold that bluff just long enough that the other riders could get around the running herd.
---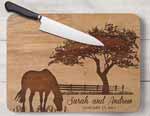 Advertisement

Custom made horse cutting board / From Etsy
---
Diving over the top of that hill first I think I was probably the only one to see a woman alone, who didn't think of herself as a cowgirl, slow a stampeding herd. As Hawg and I dove down the rocky, grassy, slope to help MaryAnn, Hawg sitting on his haunches and half skidding, half running down the hill, I could see the leaders of the runaways look right at her. They slowed down hard, falling back on their rear ends. They were still running, but they had shut down a lot of the speed. The ones right behind them blew by, but then the new leaders would see her and throw themselves back onto their rears, too.
For several moments it was just MaryAnn holding the front end of the runaway herd. After a couple of seconds it was her and me together, with MaryAnn holding them at the bottom while I held the side from blowing out. I started to think we might have them, and it felt really good.
After a few more seconds a guy I didn't know came flying over the top of the hill on a leggy black horse. I ran hard a little further down the hill to adjust my position while he held them about halfway down. MaryAnn moved to hold most of the bottom and also stopped a few of the leaders trying to go south. In a couple of more seconds a whole wave of riders came over the hill, and everyone moved down and around to surround the herd. Just that suddenly, it was mostly all over. We got them to settle, then started the slow push back to the east fence, then north toward the pens.
When we got to the pens some of the riders went to gather another pasture. Others of us rode into the pens to use our horses to count and sort the yearlings, then load them into the long line of waiting cattle trucks that were parked until they were out of sight down the dirt road. MaryAnn got off of her horse to work on the scales, and I knew as I pushed calves out of the pen to be weighed that there was a lot more to weigh thanks to her.
After several more pastures had been gathered and shipped, we all went to the house for the buffet feast Jackie had made for us. While the rest of the riders rested on the covered porch or sat under a big shade tree in the front yard, MaryAnn helped her mom in the kitchen.
While I was working my way through the line and filling my plate, another rider took a look at me in my dusty hat, boots, and spurs.
"You must be a cowgirl," he said, making pleasant conversation. Before I could think of an answer the sight of MaryAnn holding a runaway herd of yearlings charging down a hill at her jumped into my mind.
"Actually," I said, "That would be MaryAnn." The man looked at MaryAnn, not wearing a hat or spurs, busy setting out plates of food and refilling glasses. He grinned politely, not knowing what I was getting at, then quietly walked off. For just a few seconds, it was me on one side of a kitchen island filling my plate and MaryAnn on the other side.
"Thank you, Emma," she said, like it meant a lot to her. A moment later the kitchen refilled with hungry riders.
As Bill and I pulled out the drive a little while later, there were still a few people sitting on the porch or under the shade tree. MaryAnn had helped her mom put the food and dishes away, and as I looked in my side mirror I saw her walking out to the barn.
---
Advertisement

Horse Saddle Shop
Selling quality American saddles since 1986.
---
It wasn't long after that Bill and I heard from Paul and Jackie that MaryAnn was sick. As time went by they would tell us she was doing better, then not as well. It was just a few short years later that she died, leaving behind a family that loved her, a ranch that needed her, and her own horse not too far outside her front door.
When I think of MaryAnn I think of the only time I ever met her, of her kind eyes and friendly smile, that she knew it didn't matter what color her horse was, and that she and her horse could hold their ground when it really mattered. I know that when enough time passes and the Good Lord reunites her with the family that loved her so much, that He will also know a real cowgirl when he sees one and hand her the reins to a good, plain brown horse.
---
Pin it now!
---
A Good, Plain Brown Horse - Page 1
A Good, Plain Brown Horse - Page 2
---
---
About The Author
Emma Carpenter and her husband Bill are the owners of the CowboyWay.com website. Emma is the administrator of the website, and when not writing articles for other areas of CowboyWay she enjoys writing the occasional short story.
For many years Bill and Emma maintained a small cow/calf herd while also doing day work for area ranchers in the Kansas Flint Hills. The Carpenters are retired from Carpenter Rodeo Company, a family owned rodeo company that put on rodeos in Kansas and Oklahoma for over 40 years. They still own a small cow/calf herd.