Cowboy Dictionary - Letter I
---
---
Interdental Space - An area in a horse's mouth, both on the upper and lower jaws, where there is not any teeth.
The interdental space is between the front teeth (the incisors) and the back teeth (the molars). When a horse is bridled, the interdental space is where the bit rests. On the bottom jaw, most horsemen refer to this area of bare gums as the "bars."
Below: The yellow arrows are pointing to the interdental space.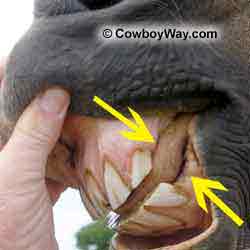 ---
---
---