Offering a horse for sale on the internet (aka "online") isn't difficult.
In fact, thousands of people list a horse for sale online every day. Even so, a little preparation and a few tips can help make a simple process even faster and easier. Please scroll down for some tips on how to advertise your horse for sale online.
---
1. Take Great Photos
Here at CowboyWay.com we've had an area for people to sell a horse online (for free) for many years. When we look at the statistics of which ads get the most views we can tell you that ads with photos get many, many, more views than ads without photos.
So, to get the most attention to your online ad you are going to need photos of your horse. While that may sound like a hassle, it is probably faster and easier for you in the long run: Without at least one photo in your ad you're liable to spend a great deal of time replying to texts or emails from people asking for you to send them one.
If a single photo is good, more are even better. Be sure to take at least one picture of the horse unsaddled, and additional photos of the horse being ridden, driven in harness, or performing whatever other skill might apply to the horse.
The good news is you don't have to be a professional photographer – or hire one – to take great photos of your horse. We have some simple, effective tips for taking great photos of your horse on this page: How To Take Horse Pictures. These tips are useful if you want to take a photo of your horse as a keepsake, or if you're wanting to sell your horse online.
Below: A bad "horse for sale" photo. The horse is overwhelmed by the ground and sky, it's standing in an unflattering position, and you can't even get a good look at it.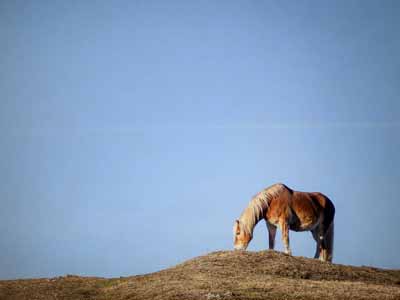 ---
Video
Like photos, prospective buyers love videos of horses for sale. While a video isn't a necessity it can be extremely helpful, especially for horses for sale in higher price ranges.
Fortunately, thanks to the wide availability of mobile phones that take reasonably good quality videos, making a video of a horse for sale is a lot easier than it used to be.
If you're using your phone to create the video try to remember to take your video while holding your phone horizontally instead of vertically. The horizontal (or "landscape") orientation is considered to be more easily viewed when compared to the vertical (or "portrait") orientation.
Below: Try to remember to hold your phone horizontally when shooting a video to sell your horse.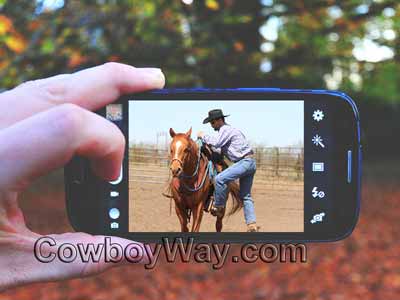 Thanks to free online video sharing services like YouTube you can upload your video, for free, then simply include a link to it in your ad.
If you're not signed up with YouTube you can share a video on Facebook, Twitter, or other social websites you're signed up with. Then, like YouTube, you can include a link to it in your ad.
---
3. Locate, Update, and Organize Any Paperwork
If your horse has any paperwork that could be connected to the sale find it now. Examples include registration papers, health papers, coggins test results, etc. Many, if not most, prospective buyers are going to ask about related paperwork so you might as well be prepared.
If your horse has registration papers make sure they're in order. For example, is the horse in your name, or have you been putting off updating the papers? Do what you need to in order to make the transfer as simple as possible. At the very least you should have blank registration transfer forms ready to fill out for you and the new owner.
Below: Don't greet a potential buyer with lost or out of date paperwork.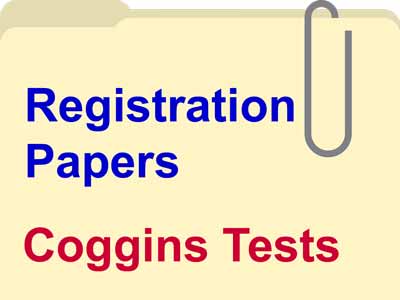 If a prospective buyer looks at your horse and would like to buy it, but the sale is delayed while you try to figure out how to update paperwork, the buyer could find another horse who's owner is better prepared for an easier, quicker sale.
---
4. Write Your Ad Once, Share It Several Times
Since you never know where a prospective buyer may find your ad, it's a good idea to place it on several different websites. So, to save yourself a lot of trouble, write your ad ahead of time and save the text on your computer or phone.
Then, when you actually place your ad, you can copy the text and place it on several different websites quickly and easily without having to re-write it or re-type it several times.
Below: Type your ad once and save it so you can share it several times.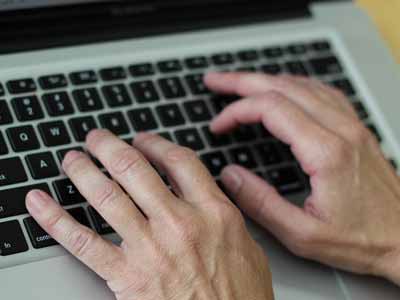 ---
5. Place Your Ad. Then Place It Again.
There are a lot of places online to advertise your horse. If you don't already have a few websites in mind, use a search engine to search for something like "free horse for sale classifieds" or something similar. You don't necessarily have to include the word "free," by the way. Many, maybe even most, online "horse for sale" websites offer both paid and free ads. (And, of course, you can always sell your horse for free on CowboyWay.com!)
A Note About Facebook
If you're on Facebook, there are Facebook Groups that allow you to post a horse for sale. Some of these groups are open to anyone, while others require you to request permission to join the group.
However, it's worth noting that Facebook's policies prohibit advertising horses and other animals for sale (see this page on Facebook.) While it often seems Facebook is lax about enforcing this policy, some people have reported their "horse for sale" posts have been deleted by Facebook.
---
How To Sell Your Horse On CowboyWay.com
The fastest and easiest way to place a "horse for sale" ad on CowboyWay is to simply just place the ad. You don't even need to register if you don't want to. Place a free ad now.
Or, if you like, you can register before placing an ad. You can register here.
Register…Don't Register. What's The Difference?
If you

do

register all you need to do is enter a username, email, and password. You'll be done in a moment. Then you can begin placing ads, and return to login and edit them anytime.
If you

do not

register you will receive an email with a link to edit your ad. Without being able to access the email that has the link you won't be able to do any editing or deleting.
We think registering is the easiest way to return to place more ads or edit the ones you already have, but it's up to you.
---
One Last Thing
While we're on the subject of selling your horse online, there's one last thing. How you write your ad, especially the title, can make a big difference in whether or not search engines (like Google or Bing) find your ad. And, of course, the more your ad shows up in search engine results the better chance you have of potential buyers finding your horse and selling him/her quickly.
We have some great tips for getting more traffic to your online ads here: Tips For Selling Your Horse Quickly.