Used Cutting Saddles
Below you will find an excellent selection of used cutting saddles for sale on eBay.
Please scroll down for our article "What Is A Cutting Saddle?"
Below: A cutting horse in action.
Used Cutting Saddle Photos
In this photo you can clearly see this cutting saddle has high swells and a tall, thin saddle horn.
This cutting horse rider uses the design of her saddle to help her stay seated during a hard stop and turn.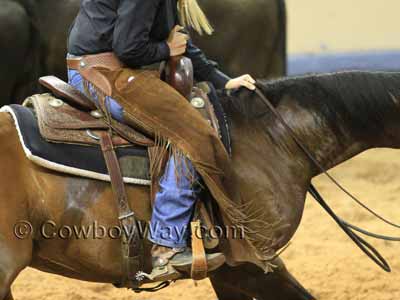 A used cutting saddle can still be in great condition and continue to provide many years of service.
What Is A Cutting Saddle?
A cutting saddle is a saddle designed to meet the needs of riders competing in cutting horse competitions. Cutting saddles are highly specialized to meet the unique demands of a high performance sport characterized by powerful horses performing hard, sudden stops; low-in-the-front-end turns; and lightening fast changes of direction.
Cutting saddles have several specialized features to help horses and riders perform their best. Some of these features are described below.
Link To This Page
If you found this page useful or interesting and would like to link to it from your own website or blog, you can use the small code snippet below to make a link. Thanks!
Use ctrl+C in Windows or command+C on a Mac to copy the link.
<a href=""></a>
---
Below: Like and share this page on Facebook!