Wade Saddles
Below are Wade saddles for sale from HorseSaddleShop.com. The Wade saddle is popular among working cowboys and cowgirls for ranch use and roping, with a reputation for comfort (for both horse and rider) and a secure fit on a horse without the need to overly tighten the cinch.
Please scroll down, underneath the saddles for sale, for a brief article about the origins of the Wade saddle and its ties to Clifford Wade, Aaron Wade, Tom Dorrance, and Ray Hunt.
Below: A Wade saddle, a style of saddle popular among working cowboys.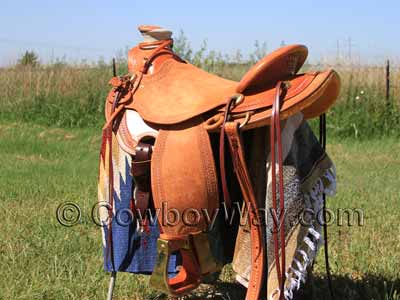 ---
Comparison Shop Wade Saddles
Below are Wade saddles for sale from HorseSaddleShop.com and eBay.
---
From eBay
---
The Origins Of The Wade Saddle
The first known Wade saddle was owned by a man named Aaron Wade, who purchased the saddle in the late 1800s from an unknown seller or saddle maker. After Aaron's death, his son Clifford Wade inherited the saddle. When Clifford Wade met a young cowboy and horseman named Tom Dorrance, Mr. Dorrance admired the saddle so much that in the late 1930s he had one made that was very much like it, with a few adjustments. While not everyone recognizes the names Aaron or Clifford Wade, Mr. Dorrance has become well known and respected as one of the greatest horsemen of our time, and the saddle maker who made his saddle wanted to call it a "Dorrance." Mr. Dorrance, however, called it a Wade, and the name stuck.
The Wade saddle grew enormously in popularity in the 1960s when another legendary horseman, Ray Hunt, had a Wade saddle built for himself. Since then the Wade saddle has become a constant presence in the world of the working cowboy, having gained fans from coast-to-coast.
A Wade saddle is characterized by a number of things, including:
A saddle horn that is both lower and bigger around than a typical "post" style saddle horn commonly seen on other ranch or roping saddles. The lower saddle horn, combined with the way a Wade saddle fits lower on a horse, gives a horse better leverage when holding livestock dallied or tied to the horn. The larger circumference of the saddle horn allows the roper to more easily slide or relax his/her dally when roping.
For fitting low on a horse, giving the horse better leverage to hold livestock that have been roped.
A low or "slick" pommel (or fork).
A deep seat, high cantle, and wide saddle bars.
Wade saddles have reputations of comfort for both horse and rider, and a close, secure fit to a horse without the need for an overly tight cinch.
Who Is "Daily Equine?" You may have seen some of the saddles above have a "Daily Equine" logo. Who is that? That's the name of the logo used by HorseSaddleShop / eSaddles. They are the same business with two names. They are one of the largest saddle dealers in the country. They have an excellent reputation both on the Web and from their brick-and-mortar store located in Bremen, Indiana.
Saddles From HorseSaddleShop, eBay, and Amazon
A Fork

Barrel Racing

Cordura

Cutting

Draft

Endurance

Flex Tree

Full Quarter Horse Bars

Haflinger

Mule

Pony

Ranch

Roping

Trail

Team Penning

Wade

Youth

By Maker
Link To This Page
If you found this page useful or interesing and would like to link to it from your own website or blog, you can use the small code snippet below to make a link. Thanks!
Use ctrl+C in Windows or command+C on a Mac to copy the link.
<a href=""></a>
---
Below: Like and share this page on Facebook!