Endurance Saddles
Endurance saddles are designed to be lightweight and comfortable for both horse and rider during long hours of riding. Their design varies; an endurance saddle may look somewhat similar to an English saddle, a Western saddle (with or without a saddle horn), or an Australian saddle. They often have rings and/or tie strings to make it easy for a rider to carry extra items. Some endurance saddles for sale use synthetic materials, such as Cordura, to not only reduce weight but to also make the saddle easy to care for and soften the price tag.
Below: An endurance saddle.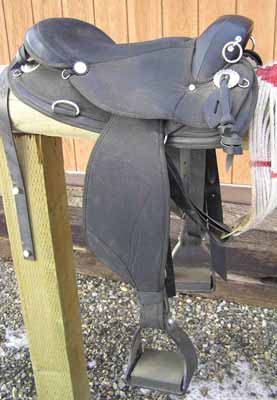 Public domain image.
---
Comparison Shop Endurance Saddles
Below are endurance saddles for sale from eBay, HorseSaddleShop, and Amazon.
---
From eBay
See more endurance saddles on eBay
---
Who Is "Daily Equine?" You may have seen some of the saddles above have a "Daily Equine" logo. Who is that? That's the name of the logo used by HorseSaddleShop / eSaddles. They are the same business with two names. They are one of the largest saddle dealers in the country. They have an excellent reputation both on the Web and from their brick-and-mortar store located in Bremen, Indiana.
Saddles From HorseSaddleShop, eBay, and Amazon
A Fork

Barrel Racing

Cordura

Cutting

Draft

Endurance

Flex Tree

Full Quarter Horse Bars

Haflinger

Mule

Pony

Ranch

Roping

Trail

Team Penning

Wade

Youth

By Maker
Link To This Page
If you found this page useful or interesing and would like to link to it from your own website or blog, you can use the small code snippet below to make a link. Thanks!
Use ctrl+C in Windows or command+C on a Mac to copy the link.
<a href=""></a>
---
Below: Like and share this page on Facebook!