Note: Links with green underlines are shopping links and will open in a new window
Horse Tips
Short tips to help horse owners and anyone who lives or lives a Western lifestyle do something faster, easier, or better.
---
Coconut Oil Hair Conditioner For Your Horse
Coconut oil makes a great hair conditioner for horses. It helps to detangle snarls, calms flyaway hairs, leaves a nice shine, and a little goes a long way. Coconut oil is a solid at approximately 76 degrees Fahrenheit and below, but melts to a liquid at temperatures above that. Even if you want to use it in cooler temperatures, it melts easily when rubbed between your hands.
---
Easier Breakaway Honda
If you want your breakaway honda to break away easier you can file the opening to be a little bit larger.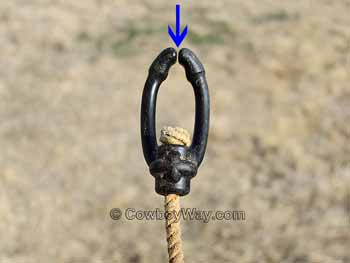 ---
Easy Change Spur Rowels
Some spurs are made so that their rowels can be easily changed. Take a look at your spurs: If there is a cotter pin, small diameter wire, or something similar holding the rowels on, you can remove the pin (or wire), change the rowels, then replace the pin or wire. In the photo below the gold wire can be straightened and removed to change the rowels.
---
Photographic Proof
Take pictures of your horses and other livestock for identification purposes. Take photos from all angles, and be sure to include important identifying marks such as brands, whorls, and markings. Also take photos of your saddles and other tack (including serial numbers), or anything else of value like your truck and trailer. If anything gets stolen having identifying photographs can be a big help in its recovery.
---
Pick Up A Dropped Rope
The next time your buddy drops a rope in the practice pen, you might be able to pick it up without getting off your horse. Build a long loop, hang it downwards, and see if you can't wiggle the tip of it under the tail of the dropped rope. Once you have, move your loop up the dropped rope a few feet, then you should be able to raise your hand and grab the dropped rope. This might work in the pasture, too, but it can be more difficult to do in grass.
---
Plastic Bags For Cleaner Hands
Before applying messy ointments or liquids to your horse, tack, or other equipment, try putting your hand into a plastic bag first (old bread sacks and used kitchen baggies work well). The bag will help keep your hands clean and free from icky residue.
---
Roping With A Stampede String
If you use a stampede string to keep your cowboy hat on when you ride, consider tucking the tail of it into your shirt when you rope. Otherwise, you could get it caught in your dally.
---
Secure A Scarf Slide
Do you have a scarf slide with a back that's too big to grip your wild rags securely? Try adding a little bit of tape to the back to make the opening for the scarf smaller. Be sure to use tape that won't leave a stain or sticky residue on your wild rag. We like to use Self-Fusing Silicone Tape.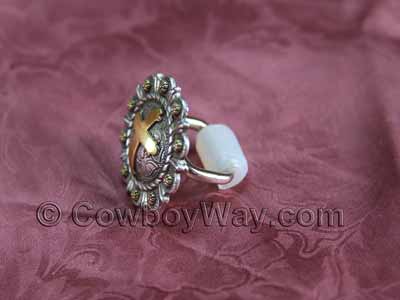 ---
Stop A Honda From Turning
Some people want their honda to turn freely on their rope. However, if want your honda to stay in place but it keeps turning, try this: Slide the honda down the rope out of the way, add some tape (electrical tape works well) to the end of the rope just before the stopper knot where the honda goes, then slide the honda back into place. The tape will increase the diameter of the rope and help the honda fit more snugly and prevent it from turning. Of course, this doesn't apply to tied-on hondas, but only to hondas that are purchased or made separately then put on the rope.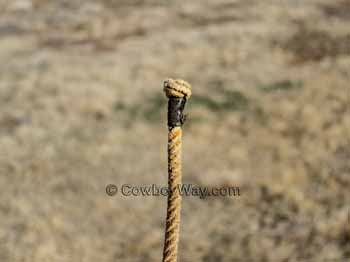 ---
Trim Chin Hairs
Trim the chin area on your horse where the curb strap rests. Trimming this area will help prevent long hairs from getting tangled in the curb strap when you're riding, resulting in a more comfortable ride for your horse. This area may benefit from a little trimming even in the summer when the hairs are shorter than in the winter.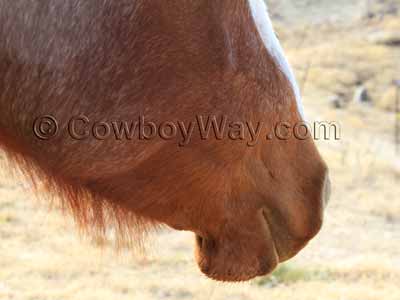 Link To This Page
If you found this page useful or interesing and would like to link to it from your own website or blog, you can use the small code snippet below to make a link. Thanks!
Use ctrl+C in Windows or command+C on a Mac to copy the link.
<a href=""></a>
---
Below: Like and share this page on Facebook!