Cowboy Dictionary - Letter Q
Jump to cowboy dictionary navigation. (A, B, C, etc.)
Quarter - When referring to acreage, a "quarter" is a quarter section of land. A full section of land is 640 acres, so a quarter section is 160 acres.
---
Quarter Mark - A "quarter mark" is a mark brushed onto a horse's hindquarters. They are created by brushing damp hair on the horse's hindquarters in a different direction than the surrounding hair. This contrast in hair direction reflects light differently, thus creating a quarter mark.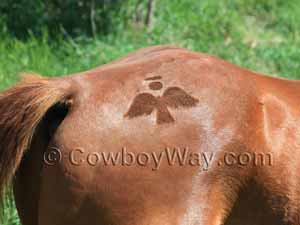 ---
---
---
Link To This Page
If you found this page useful or interesting and would like to link to it from your own website or blog, you can use the small code snippet below to make a link. Thanks!
Use ctrl+C in Windows or command+C on a Mac to copy the link.
<a href=""></a>