Cowboy Dictionary - Letter P
Jump to cowboy dictionary navigation. (A, B, C, etc.)
Pair - A way of referring to a mother cow and her calf. For example: "How many pairs did he buy?" It is sometimes a cowboy's job to "pair up" cows and calves, which means to observe them until they determine which calves belong to which cows.
Below: A cow and her calf, or a "pair."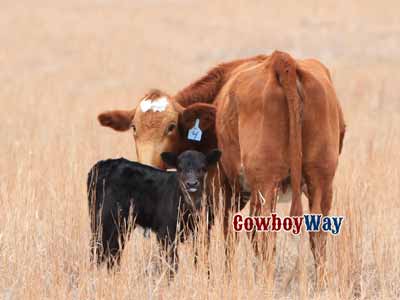 ---
Pole Bending - Pole bending is a timed event that features a horse and rider running a serpentine pattern around six poles. The pole bending pattern consists of six poles spaced (usually) 21 feet apart in a straight line.
To run the course the horse and rider gallop past the start/finish line and down one side of the row of poles. Reaching the last pole, they turn around it and weave their way back through all the poles. When they reach the last pole they turn around it so they can weave their way back down through the line of poles in the opposite direction they just came. Upon once again reaching the last pole in the line they turn around it and run in a straight line to the start/finish line to stop the time. The fastest time wins.
Pole bending is often seen at junior high and high school rodeos, as well as horse shows on both local and national levels.
Below: A horse and rider competing in pole bending.
You can shop for pole bending bases and poles here.
---
Polled - The word "polled" means an animal that is naturally, or genetically, without horns.
An animal that was born with horns but had them removed at some point would be described as "dehorned," not polled.
The word "muley" is a casual or slang term sometimes used to describe cattle, and means the same thing as polled.
For more information about horns, please see our article Cow Horns.
Below: The skull of a polled cow.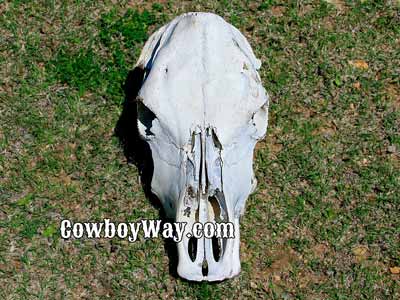 ---
---
---
Link To This Page
If you found this page useful or interesting and would like to link to it from your own website or blog, you can use the small code snippet below to make a link. Thanks!
Use ctrl+C in Windows or command+C on a Mac to copy the link.
<a href=""></a>