Cowboy Dictionary - Letter N
Jump to cowboy dictionary navigation. (A, B, C, etc.)
Near Side - The left side of a horse. The right side of a horse is the "off" side.
---
Night Latch - A leather strap (or something similar) attached to a saddle for the rider to use when a horse is bucking.
A rider grabs onto, and pulls on, a night latch when a horse is bucking to help pull themselves deeper into the saddle. A night latch is typically a leather strap, a short piece of rope, or something similar, that has been run through the gullet of the saddle.
You can shop for a night latch here.
Below: A pony ranch bronc rider uses a night latch.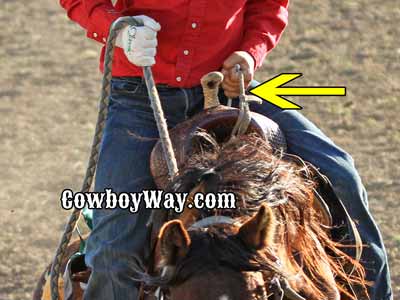 ---
---
---
Link To This Page
If you found this page useful or interesting and would like to link to it from your own website or blog, you can use the small code snippet below to make a link. Thanks!
Use ctrl+C in Windows or command+C on a Mac to copy the link.
<a href=""></a>