Cowboy Dictionary - Letter I
Jump to cowboy dictionary navigation. (A, B, C, etc.)
Interdental Space - An area in a horse's mouth, both on the upper and lower jaws, where there is not any teeth.
The interdental space is between the front teeth (the incisors) and the back teeth (the molars). When a horse is bridled, the interdental space is where the bit rests. On the bottom jaw, most horsemen refer to this area of bare gums as the "bars."
Below: The yellow arrows are pointing to the interdental space.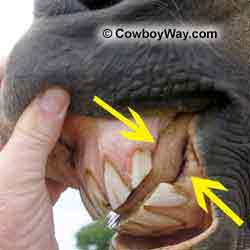 ---
---
---
Link To This Page
If you found this page useful or interesting and would like to link to it from your own website or blog, you can use the small code snippet below to make a link. Thanks!
Use ctrl+C in Windows or command+C on a Mac to copy the link.
<a href=""></a>