Abetta Endurance Saddles
Below are Abetta endurance saddles for sale on Amazon. There is usually an excellent choice of different models to choose from. An endurance saddle is specially made for the rigors of the sport of endurance riding, a competitive sport in which a horse and rider navigate a pre-determined trail that is typically 50 or 100 miles long. For more information on endurance riding please scroll down beneath the saddles for sale.
Below: Well-known and highly accomplished American equestrienne Denny Emerson competing in an endurance ride on Rett Butler.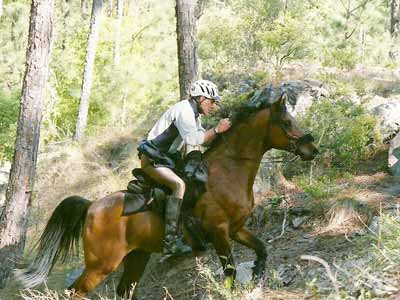 Image attribution: By Iceprincess95 (Own work) [CC BY-SA 4.0], via Wikimedia Commons
Other great places to find Abetta Endurance saddles are:
---
Click here to see ALL the Abetta saddles on Amazon.com!
---
A few more Abetta endurnce saddles......
Below are a few more Abetta endurance saddles. They might already be shown in the saddles you see above.

Abetta Serenity Endurance Saddle
The Abetta Serenity Endurance saddle is built on the same time-proven design as the original Abetta Nylon saddles but with an extra thick Super Cushion seat for added comfort. Based upon the usage of the memory foam we suggest sizing up a full seat size.

Abetta Endurance AIRE-Grip Saddle
The Abetta(R) Endurance saddle is a trail rider's dream. Durable, lightweight, and comfortable, this saddle features a breathable, shock-absorbing Cool-Grip lining. Easier to clean than leather and wider than most synthetic saddles, which helps give a better fit. AIRE-grip, shock-absorbing closed-cell foam lining, weather resistant, and features Acu-Letha trim. Made in the USA.
---
About Endurance Riding
An endurance ride, also sometimes referred to as an endurance race, is a type of horseback riding competition where a horse and rider navigate a pre-determined trail over natural terrain. The rides are typically 50 or 100 miles long and completed in less than a day. There are also rides of shorter distances.
During the ride the horse and rider teams compete at their own pace, taking breaks for food, water, and rest as the rider chooses. There are numerous veterinary check points throughout the race, with any horse being determined unfit to continue pulled from the competition. Riders are allowed to dismount and walk, trot, or run beside their horse anytime they choose and for as along as they choose.
The fastest horse and rider team to complete the ride wins.
Below: A horse at a veterinary check point during an endurance ride.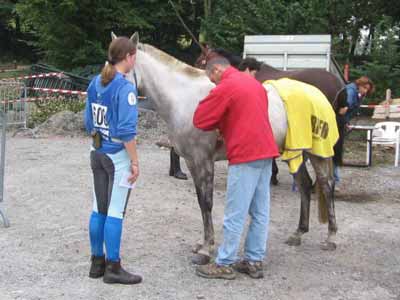 Image attribution: By Eponimm (Own work) [GFDL or CC BY-SA 3.0], via Wikimedia Commons
---
About Abetta Saddles
Abetta saddles are made by the Action Company, which was founded in 1968 in Texas. Action Company first introduced their Abetta saddle line in 1994 with the goal of making well-made saddles on good trees that were lightweight, durable, easy to care for, and available at affordable prices. Abetta saddles quickly became highly popular and revolutionized the saddle industry. They are American made in Action Company's McKinney, TX facility.
---
More From Abetta
In addition to saddles, Abetta also makes other popular items in their line of tack. Here is a selection of some of those items that are available on Amazon.
---
Save The Saddle For Later
If you find an Abetta endurance saddle you like but you're not ready to purchase it right away, you can always add it to your shopping cart so it will be easy to find later.
In most cases, Amazon will keep track of your saddle, and anything else in your shopping cart, for 90 days.
Later on, if you decide you don't want the items after all, it's easy to click "delete" and remove them from your cart.
In the meantime, if you want to check out with other items, click "Save for later" to move the saddle to a separate, but still easy-to-find list beneath your shopping cart.
Important: Putting items in your Amazon shopping cart or "Save for later" list does NOT reserve them! It just makes them easier to find if they're still in stock when you come back.
Below: Screenshot image showing the "delete" and "Save for later" links when an item is in the Amazon shopping cart.
Link To This Page
If you found this page useful or interesing and would like to link to it from your own website or blog, you can use the small code snippet below to make a link. Thanks!
Use ctrl+C in Windows or command+C on a Mac to copy the link.
<a href=""></a>
---
Below: Like and share this page on Facebook!